Genestra HMF Baby F Probiotic Formula for Formula Fed Babies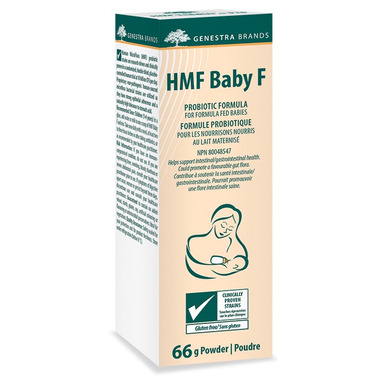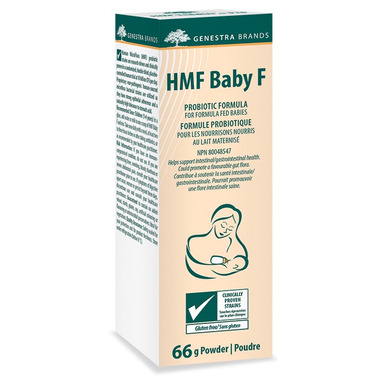 Genestra HMF Baby F Probiotic Formula for Formula Fed Babies
Genestra HMF Baby F is a probiotic supplement for formula fed babies.
Features:
10 billion CFU per dose
Helps support gastrointestinal health
Could promote a favourable gut flora
Genestra HMF probiotics (despite having keep refrigerated on box) maintain a high degree of stability at 25C for up to 20 days.

HMF Baby F probiotic supplement for formula fed babies provides Lactobacillus salivarius, Lactobacillus paracasei, Bifidobacterium bifidum and Bifidobacterium animalis subsp. lactis, which help to support gastrointestinal health.
In a recent clinical trial, infants aged 0-6 months supplemented with HMF Baby F's probiotic formula did not experience any increase in adverse event incidence, number of visits to the doctor, or mother's assessment of infant health.
HMF Baby F provides additional microflora support with fructooligosaccharides (FOS) and galactooligosaccharides (GOS), a prebiotic fibre similar to oligosaccharides naturally occurring in breast milk. HMF Baby F's powder dissolves easily into milk, formula, or water.
Please be advised that Well.ca follows manufacturer guidelines for storing & shipping probiotics. This product will be shipped with an ice-pack to maintain product efficacy.


Sabrina:
about a year ago
I was having some issues with my daughters infrequent bowel movements for quite a long time. After trying everything, the doctor advised me to start giving her a daily laxative. Skeptical, I searched for a probiotic and found this brand. Surprisingly this stuff actually worked the first day I gave it to my daughter. I'm happy to report she has been doing a poop everyday!
Page
1