Graydon
Graydon Berry Rich All Over Face Cream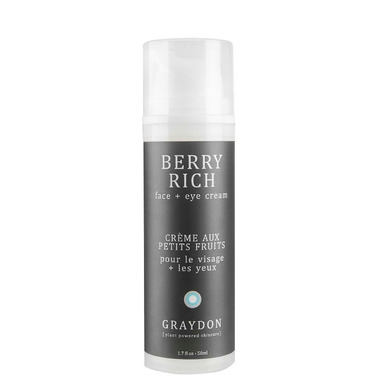 Graydon
Graydon Berry Rich All Over Face Cream
Description
As its name would suggest, this cream is rich in texture and loaded with the goodness of Canadian grown organic berry seed oils.
Chock full of vitamins (a & e), omega fatty acids (3 & 6) and super powered ellagic acid that is a natural phenol antioxidant -- which aids in constricting/ minimizing the appearance of blood vessels/capillaries, this non-irritating, unscented cream is like a genie in a bottle for 'hungry' dry parched skin.
Enjoy using it all over your face including around your eyes, lips and décolleté.
Enriched with shea butter, sunflower and olive, it's especially good as a night cream and lovely to use during the day when you need an extra boost.
This product is EWG Verified and Leaping Bunny Certified.

Key Ingredients & Benefits:
Cranberry Seed Oil: can penetrate the skin because of its superlight texture. Testing indicates that Cranberry Seed Oil possesses the highest quantity of tocotrienols (Vitamin E) of any vegetable oil. It also has a unique balance of Omega 3, 6 and 9 essential fatty acids not found in other oils. Helps relieve itchy, scaly, irritated skin conditions such as eczema and psoriasis.
Blueberry Seed Oil: a well known anti-oxidant, so it's no surprise that cold pressed blueberry seed oil is an incredibly efficient way to infuse youthfulness into your skin. With the subtle aroma of blueberry pie, this oil is rich in polyunsaturated fatty acids including omega 3, omega 6 as well as Vitamin E.
Red Raspberry Seed Oil: extraordinarily high in Omega-3 and Omega 6 fatty acids, cold pressed red raspberry seed oil is a superb anti-oxidant. Raspberry seed oil is emollient, lubricating, conditioning, and helps creates a lipid barrier-- providing moisture retention and protection to the skin. It is known for its prevention of rashes, eczema, skin lesions and also has properties which provide broad-spectrum UV-A and UV-B shielding.
Ingredients:
purified water (aqua), cetyl alcohol (coconut product), stearyl alcohol (mixed plant), vegetable glycerin (glycerol), sunflower oil (helianthis annus), olive oil (olea europaea), jojoba oil (jojoba), cranberry seed oil (vaccinium macrocarpon), blueberry seed oil (vaccinum myrtillus), red raspberry seed oil (rubus idaeus), shea butter (butyrospernum parkii), sodium lactate, grapefruit seed extract (citrus grandis) and nothing else!
Highlights