Heaven Fresh Digital Ultrasonic Ionic Humidifier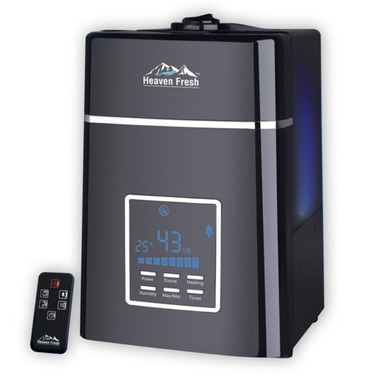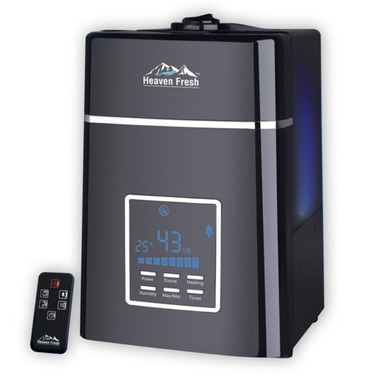 Heaven Fresh Digital Ultrasonic Ionic Humidifier
The compact, stylishly designed HF 707 is an ideal humidifier purifier for smaller spaces. It offers negative ions option that makes it a dual purpose: humidifier as well as an ionic air purifier. The unit offers cool moist and visible Blue night light as well as Hi / Low speed to set desired level of humidity.
Efficient and Effective:
Variable spray mist control for use with small, medium or large rooms
Large capacity water tank (6L/1.6 gallon) refills with normal tap water
High moisture output can quickly humidify a room up to 40 m² (430 ft²)
Low water indicator notifies you when to refill the tank
Advanced Technology:
Advanced digital technology can produce either cold or warm mist.
Healthy negative Ions to purify the air while providing a restful sleep.
Permanent, easy-to-clean ceramic nano-silver filter for control of white dust, mould and bacteria.
Auto Hygrostat sensor automatically regulates mist output according to desired humidity level.
Safely and automatically shuts off when it runs out of water.
Hassle Free Operation:
Up to 14 nights or 120 hours of continuous operation without refilling the tank
Simple, easy-to-use, one-touch timer control for up to 12 hours of operation
Virtually silent operation with advanced ultrasonic technology ensures a quiet and restful sleep
Soft glow night light and auto dimming display will keep your bedroom dark for sleeping
Colour: Black


Ray:
more than a year ago
This unit has interesting features for modern people, but is not user friendly for the elderly.
Pro: remote to adjust humidity level and steam level; timer.
Con: 14 nights without refilling is false advertising. Even at the lowest settings and nightly use only mostly good for only 3 1/2 nights. Elderly people will have a hard time refilling the tank and reinstalling it with full water in it without spiliing the water all over the place. You need to be a strong older person or need to have young muscles to help you out. The warm mist option is bad, as the water overheated and flowed out of the reservoir tank which could cause flooding if not caught on time. The unit is not as quiet as advertised. White dust was prevalent during the first couple of weeks of use, but now seemed to have subsided. The digital settings are not memorized by the unit, requiring you to reprogram when the unit shuts down on timer or after refill of water.
Page
1