Herbivore
Herbivore Hydrate + Glow Natural Skincare Mini Collection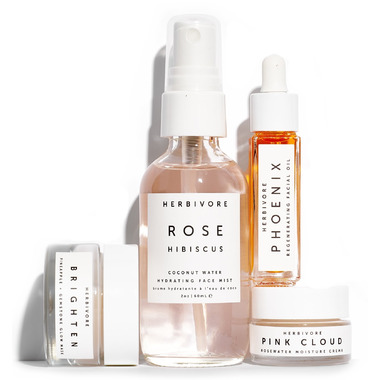 Herbivore
Herbivore Hydrate + Glow Natural Skincare Mini Collection
Description
The Herbivore Hydrate + Glow Natural Skincare Mini Collection features Pink Cloud Moisture Creme, Brighten Glow Mask, Phoenix Facial Oil and Rose Hibiscus Hydrating Mist. Formulated for all skin types but especially beneficial to skin in need of deep hydration.
Pink Cloud Rosewater Moisture Creme
hydrates and smooths skin leaving it with a glowing and slightly dewy appearance. Includes Rosewater, Aloe Water, and White Tea Extract to moisturize. Formulated for all skin types - never greasy, oily, or sticky. Perfect under make-up or worn alone to let your skin breathe.
Phoenix Facial Oil
is a star of the collection helping to hydrate skin. Like a Phoenix being re-born from the ashes, refresh your skin with a blend of luxe botanical oils. Phoenix Facial Oil dramatically hydrates and revitalizes dry skin or any skin in need of replenishment.
Brighten Instant Glow Mask
is a truly natural radiance mask featuring Rice Powder, Pineapple Enzymes, plus micronized Brazilian Tourmaline gemstone to brighten and energize the skin.

Rose Hibiscus Hydrating Mist
contains a truly natural base of organic Coconut Water, this facial mist is infused with naturally humectant Hibiscus Flower Extract and moisture-enhancing Rose Water to refresh and hydrate skin. Formulated for all skin types.

Collection Includes:
1 x 8 mL Phoenix Facial Oil
1 x 60 mL Rose Hibiscus Hydrating Face Mist
1 x 14 g Brighten Instant Glow Mask
1 x 7.5 g Pink Cloud Rosewater Moisture Creme
Highlights