Kyolic Detoxification Formula 101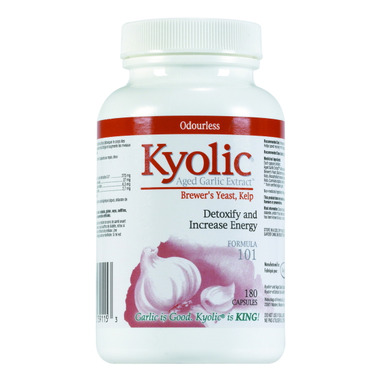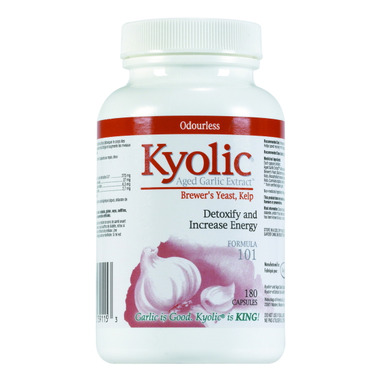 Kyolic Detoxification Formula 101
270 mg Garlic With Brewers Yeast, Kelp and Whey.
180 Capsules
KYOLIC 101 provides 270 mg of aged garlic extract combined with natural brewer's yeast, and kelp. It also contains alginic acid (a seaweed polysaccharide) and whey.
KYOLIC is a unique aged garlic extract powder produced through a proprietary aging and extraction technique that dramatically improves the natural compounds in garlic and reduces the deleterious & malodorous component of garlic, allicin.

KYOLIC Aged Garlic Extract has been shown to have an array of benefits, including maintaining healthy cholesterol levels, enhancing circulation, supporting immune function, fighting stress and fatigue to help in maintaining healthy function of the liver and nerves. In addition, AGE may help to chelate (remove) heavy metals from the body. Impressive benefits backed by research and all without the stomach upset, gas and diarrhea that may accompany non-Kyolic garlic consumption.
Brewer's yeast is a source of natural vitamin B complex and trace minerals; Kelp is a source of inorganic iodine and other minerals; together these B vitamins may boost your energy and help to replenish beneficial minerals.

KYOLIC 101 is ideal for those who desire the enriching minerals and vitamins from brewer's yeast, kelp, algin, and whey along with the values of Kyolic garlic.