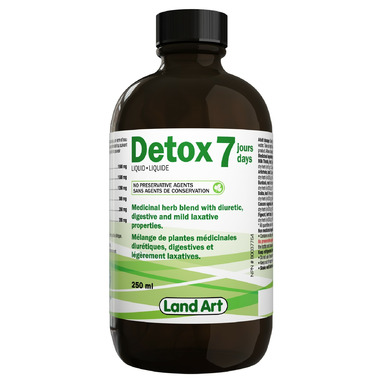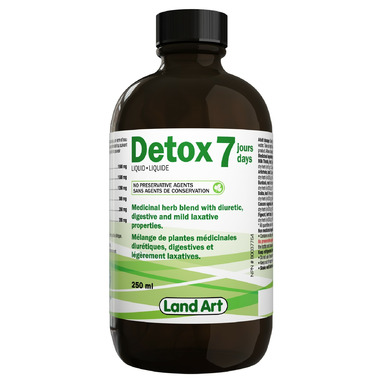 Land Art Detox is a 7 day cure to be taken in the evening as a tea. Land Art Detox is composed with 100% natural ingredients and plants with recognized virtues acting in synergism with the body. It also contains Aloe Vera to ensure the protection of the stomach. Plan for a detox at each changing of the seasons!
Health Benefits:
Increased physical and mental energy
Beneficial sleep
Reduction of water retention
Reduced intestinal and gastric troubles
A sensation of well-being
Reduced sensitivity to stress
Less migraines and pain
More efficient immune system
Decreased allergies
The active ingredients of Land Art Detox:
Milk thistle is used in Herbal Medicine as a liver protectant. It also helps to support liver function. The ancient Greeks already knew about the properties of milk thistle to treat hepatic and biliary troubles. Silymarin, isolated in 1968, is considered to be the active substance responsible for the therapeutic effects of the plant.
Artichoke is used in Herbal Medicine to help relieve digestive disturbances and to help increase bile flow. Artichoke has been used for its therapeutic values since Antiquity. Its active ingredient is cynarine, a substance in the polyphenol family.
Burdock is used in Herbal Medicine as an alterative to help remove accumulated waste products via the kidneys, skin and mucus membranes, and as a diuretic. In China, India, Europe and North America (the Amerindians), burdock was often used as a medicinal plant for many problems: respiratory infections, articular pain, cancerous tumours, etc. Traditionally, herbalists used burdock to "purify" the body of impurities that could cause illness.
Boldo is used in Herbal Medicine to treat digestive disturbances and to stimulate digestion. Archaeological digs conducted in Chile enabled the discovery of the culinary and medicinal use of boldo leaves dating back to 12 500 years. Today in Canada, it is one of the 20 plants most recommended by herbalists and naturopaths.
Cascara sagrada is used in Herbal Medicine to promotes bowel movement. It is the dried bark of this tree that is used in North America to make a traditional extract.
Figwort is used in Herbal Medicine as a diuretic. It is also used to relieve symptoms of chronic cutaneous diseases, eczema, psoriasis, pruritus. Scrophularia nodosa (also called figwort) also has beneficial properties for cases of PMS or menopause.
Directions:
Adults: Take 30 mL per day for 7 days. Dilute in a juice, a glass of water or ideally in a cup of hot water. Take at night. Take a few hours before or after taking another medication or health products. Allow at least 6 to 12 hours for laxative effect to occur.
Medicinal Ingredients (per 30 mL):
Milk Thistle, fruit (Sylibum marianum) ... 1500 mg
dry herb (in 5 g 1:33 extract)
Artichoke, leaf (Cynara scolymus L.) ... 1500 mg
dry herb (in 20,5 g 1:14 extract)
Burdock, root (Artium lappa) ... 1200 mg
dry herb (in 20,5 g 1:17 extract)
Boldo, leaf (Peumus boldus) ... 300 mg
dry herb (in 20,5 g 1:68 extract)
Cascara sagrada, bark (Cynara scolymus L.) ... 250 mg
dry herb (in 20,5 g 1:81 extract)
Figwort, herb top (Scrophularia nodosa L.) ... 200 mg
dry herb (in 20,5 g 1:100 extract)
Non-Medicinal Ingredients:
Vegetable glycerin, aloe vera, citric acid.
No added sugar, aroma or colouring agents. No preservatives. No allergenics (gluten, wheat, dairy products, yeast, corn).