Land Art
Land Art for Pets Collagen Supplement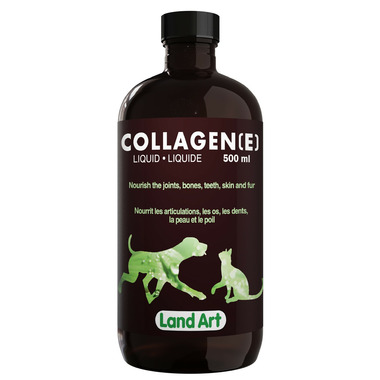 Land Art
Land Art for Pets Collagen Supplement
Description
Collagen makes up 75% of your animals skin and 30% of all proteins in the body.
With time, the natural production of collagen decreases. Collagen is essential for the integrity of all tissues.
As an anti-aging supplement, collagen improves the look of the fur, regenerates cartilage and ligaments, increases muscle tone, tones up the body and organs, improves elasticity and tightens up the skin. It increases endurance, strength and vitality and accelerates healing in case of injury.
The Land Art formula is composed of top quality hydrolysed collagen, tested and approved for human consumption.

Directions:
One dose per day, everyday. Intensive treatment: Double the dose and give once a day for 3 months or as needed. Give with food.
Medicinal Ingredients:
per 5 mL
Hydrolyzed beef collagen, 1600 mg
Non-Medicinal Ingredients:
Purified water, citric acid, natural beef flavour, sodium benzoate, potassium sorbate.
Highlights