Nature's Harmony Fenugreek-Thyme
250 mg / 250 mg
60 Capsules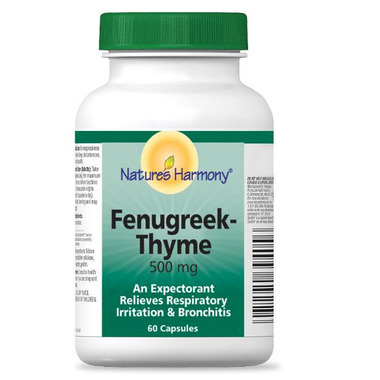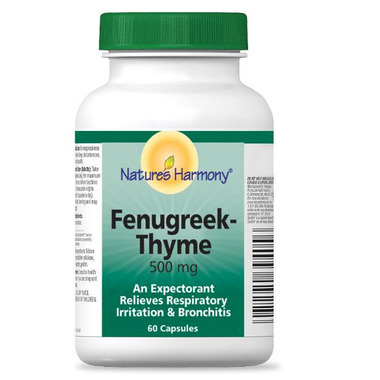 Nature's Harmony Fenugreek-Thyme
250 mg / 250 mg
60 Capsules
- We're sorry, this product is no longer available!
- Shop for other products in: Other Herbs

Traditionally used in Herbal Medicine as an expectorant to help relieve the symptoms of bronchitis and catarrh of the upper respiratory tract.
Each capsule of Nature's Harmony Fenugreek-Thyme contains 250 mg of fenugreek (Trigonella foenum-graecum) seed and 250 mg of thyme (Thymus vulgaris) leaf.

This product is free of corn, dairy, egg, gluten, shellfi sh, soy, sulfi tes, and artifi cial colours, fl avours, and preservatives.


Peggy:
more than a year ago
I bought this product because I had been battling congestion deep in my sinuses. No over-the-counter decongestants that I had tried made any difference. I remember using this formulation (fenugreek & thyme) years ago for plugged inner ears. So I decided to give it a try. Within the second day I was astounded that I was feeling the congestion moving out and the pressure in my face was greatly reduced. Within a week there was no longer a sign of congestion. I know that the time may not be the same for everybody, but give it a chance and you will see it really does make a difference. And the big bonus is that it doesn't make me sleepy at all, like the drugs do.
Page
1