Nature's Miracle Dander Remover & Body Deodorizer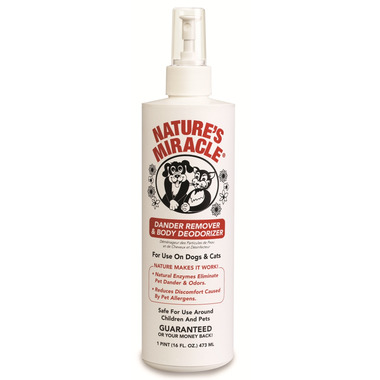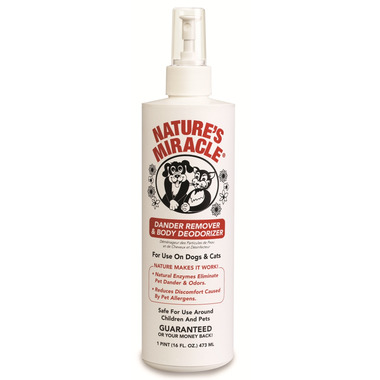 Nature's Miracle Dander Remover & Body Deodorizer
Nature's Miracle Dander Remover & Body Deodorizer helps relieve allergies caused by dog and cat dander.
Works well with older dogs prone to dander problems. Long-lasting citrus scent to make your pet's coat smell great all day long

Features: Directions
Spray onto a cloth or paper towel and wipe onto pet, rubbing back and forth.
Or, spray directly onto pet's coat and rub back and forth with cloth or paper towel.
To Eliminate Odours
Lightly spray pet's coat, being careful not to get into eyes, nose, mouth or ears.
Avoid spraying on face.
Let dry.
Mixing 50/50 with rinse water allows pet to be odour free longer.
Can also be used as a detangler.
Anne:
more than a year ago
My dog rolled in something horribly obnoxious. I sprayed some Nature's Miracle on a rag and wiped the worst of the black, tarry substance off, then sprayed it directly on his coat and let it dry. The smell was reduced to the point where it was barely noticeable and was gone the next day, leaving Benny's coat soft and shiny. A good all-natural product that does what it promises.
Page
1