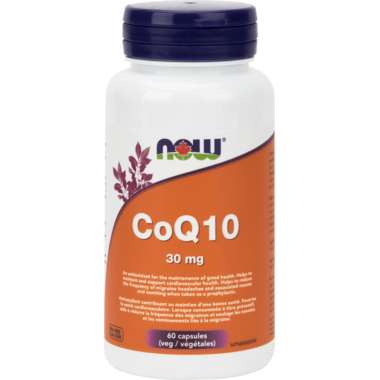 Description
NOW Foods CoQ10 Veg Capsules contain the vitamin-like compound Coenzyme Q10, also called ubiquinone. It is an essential component of cells and is necessary for mitochondrial energy production. Years of research has shown that CoQ10 supports healthy cardiovascular and immune system functions in addition to its vital role in cellular energy production.
Features:
Antioxidant for the maintenance of good health
Helps to maintain and support cardiovascular health
Helps to reduce the frequency of migraine headaches and associated nausea and vomiting when taken as a prophylactic
Vegetarian/Vegan
Corn free, egg free, soy free
Directions:
Adult Dosage: For antioxidant and cardiovascular health: Take 1-3 Capsules, 1-3 times per day. For migraine prophylaxis: Take 3 Capsules, 2-3 times per day. Use for minimum of 3 months to see beneficial effects.
Ingredients:
Each capsule contains:
Coenzyme Q10 (Ubidecarenone) (Bacteria) 30 mg
Non-Medicinal Ingredients:
Rice Flour, Veg Capsule (hypromellose, water).
Caution:
Consult a health care practitioner prior to use if you are pregnant or breastfeeding or if you are taking blood pressure medication or blood thinners. Consult a health care practitioner if migraine frequency increases, and associated nausea and vomiting persist or worsen.
Highlights

Shipping & Returns