NOW Foods
NOW Foods Echinacea & Goldenseal Roots 1:1 Blend 500 mg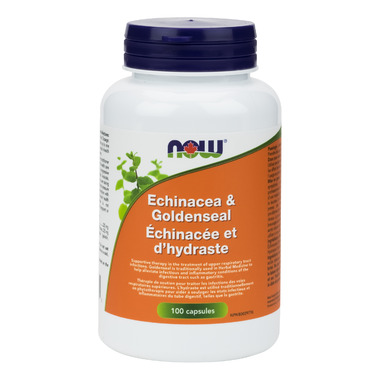 NOW Foods
NOW Foods Echinacea & Goldenseal Roots 1:1 Blend 500 mg
Description
More prevalent today than any time in history. Echinacea (purple coneflower) is a Native American herb that was once used by the Plains People and is now used by millions of consumers worldwide. With cough being the number 1 reason for doctor's visits in Canada, having a natural remedy that can reduce crowded waiting rooms is welcomed. Echinacea with Goldeseal is a proven combination that can help relieve upper respiratory infections.
Suggested Usage:
As a dietary supplement, take 2 capsules 2 to 4 times daily. Continuous high level consumption of this product for more than 2 weeks of each month is not recommended.
Ingredients: Each capsule contains: Echinacea (Echinacea purpurea) Root 225 mg, Goldenseal (Hydrastis canadensis) Root & Rhizome 225 mg.
Non-Medicinal Ingredients: Veg Capsule (hypromellose, water), Stearic Acid
Highlights

Ingredients
Each capsule contains: Echinacea (Echinacea purpurea) Root 225 mg, Goldenseal (Hydrastis canadensis) Root & Rhizome 225 mg. Non-Medicinal Ingredients: Veg Capsule (hypromellose, water), Stearic Acid
Shipping & Returns