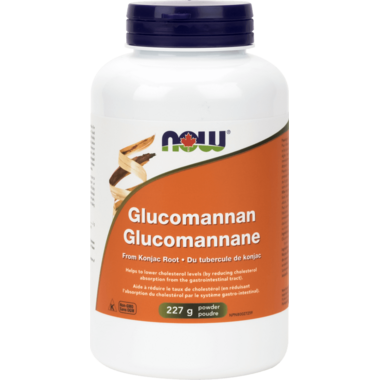 Description
Ideal for those with elevated cholesterol levels. Glucomannan is a soluble, bulk-forming fibre derived from the konjac root (Amorphophallus konjac). Glucomannan Powder helps to lower cholesterol levels (by reducing cholesterol absorption from the gastrointestinal tract). Clinical studies have demonstrated that Glucomannan can provide temporary relief of constipation and may help to maintain serum lipid levels already within the healthy range.

Adult Dosage (for Cholesterol Lowering): Take ¼ teaspoon 3 times daily. For each gram of glucomannan, mix with at least 240 mL liquid (water, milk, fruit juice or similar aqueous beverage). Stir briskly and drink immediately. Not to be taken immediately before bedtime. Take ½ to 1 hour before meals. Take 2 hours before or after taking other medications. Taking this product with insufficient liquid may result in choking and/or esophageal blockage/obstruction of the throat, esophagus or intestine. Consult a health care practitioner for use beyond 8 weeks.

Ingredients (each ¼ teaspoon contains):
Glucomannan ………………………………………………………1 g
(from Konjac Root) (Amorphophallus konjac, K. Koch)

Caution: Consult a healthcare practitioner prior to use if you have diabetes, and/or are pregnant or breastfeeding. Do not use this product if you have difficulty swallowing. Loose stools, flatulence, diarrhea, and abdominal discomfort have been reported. If you experience chest pain, vomiting, or difficulty in swallowing or breathing after taking this product, seek immediate medical attention.
Highlights

Shipping & Returns