NOW Foods
NOW Foods Phase 2 Starch Neutralizer 500 mg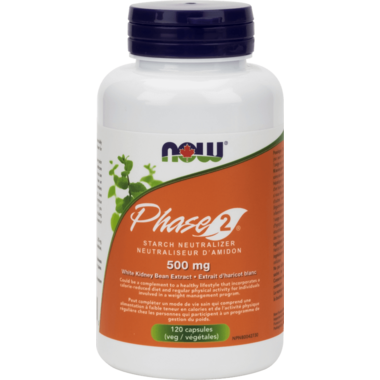 NOW Foods
NOW Foods Phase 2 Starch Neutralizer 500 mg
Description
PHASE 2
®
is a white kidney bean extract that can help to delay the breakdown of dietary starches by limiting the action of the digestive enzyme alpha-amylase. Alpha-amylase helps break down dietary starches into glucose so that they can be absorbed by the digestive tract. With less alpha-amylase activity, there may be less excess glucose available to convert into fat and store as adipose tissue. NOW PHASE 2 helps you achieve dietary management objectives without the use of stimulants or laxatives.
Features:
Starch Neutralizer
Could be a complement to a healthy lifestyle that incorporates a calorie-reduced diet and regular physical activity for individuals involved in a weight management program
Vegetarian/Vegan Formula
Suggested Usage:
As a dietary supplement, take 3 Veg Caps before any meal containing complex carbohydrates or starches, or as directed by a healthcare practitioner.
Medicinal Ingredients (each capsule contains):
White Kidney Bean (Phaseolus vulgaris) (Seed) 500 mg.
Non-Medicinal Ingredients:
Veg Capsule (hypromellose, water), Cellulose, Magnesium Stearate (vegetable source), Stearic Acid (vegetable source).
Caution:
Not to be used by diabetics, hypoglycemics or pregnant/lactating women unless recommended by a healthcare practitioner.
Highlights

Shipping & Returns