NOW Foods Phase 2 Starch Neutralizer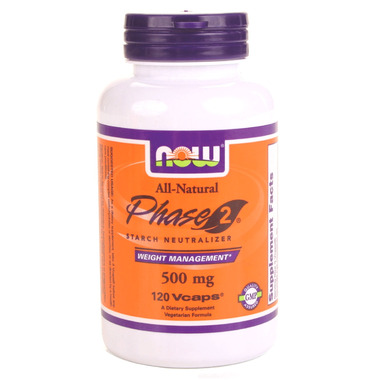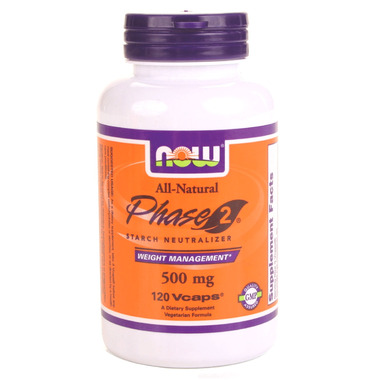 NOW Foods Phase 2 Starch Neutralizer
NOW PHASE 2 helps you achieve dietary management objectives without the use of stimulants or laxatives. PHASE 2 is a natural bean extract that has been shown in non-clinical studies to help reduce the breakdown and absorption of complex carbohydrates, by limiting the action of alpha-amylase, a digestive enzyme. Alpha-amylase helps break down dietary starches into glucose so that they can be absorbed by the digestive tract. With less alpha-amylase activity, there may be less excess glucose available to convert into fat and store as adipose tissue.
Features:
Starch Neutralizer
Aids in Weight Management
Vegetarian/Vegan Formula
Suggested Usage:
As a dietary supplement, take 3 Veg Caps before any meal containing complex carbohydrates or starches, or as directed by a healthcare practitioner.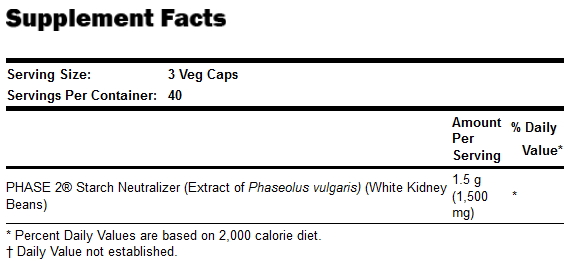 Other Ingredients:
Cellulose (capsule), Cellulose Powder and Gum Acacia.

Contains No:
Sugar, salt, yeast, wheat, gluten, corn, soy, milk or preservatives.
Caution:
Not to be used by diabetics, hypoglycemics or pregnant/lactating women unless recommended by a healthcare practitioner.



TINA:
more than a year ago
This actually helped me during the holiday season to maintain my weight. It definitely helps for those days when you are eating something that is a bit on the richer/sweeter side. If you are a weight loss regimen it can help with those days when you have to go to that dinner party and are not in charge or all the ingredients in your meal. I have noted a difference aa compared to not using it.
Page
1