Nutrition Now Rhino Gummy Bear Multi-Vitamin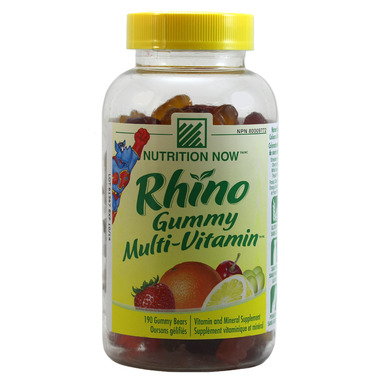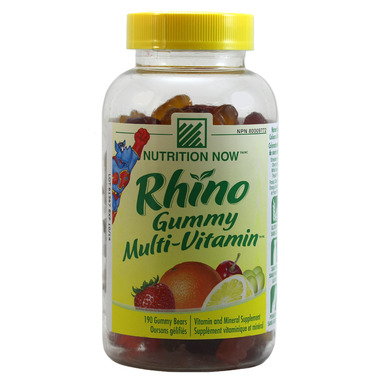 Nutrition Now Rhino Gummy Bear Multi-Vitamin
To realize full superhero potential every day, kids need proper nutrition for their growing
bodies and minds. Made with natural colours and flavours, Rhino Gummy Bear Vitamins
have the nutrients kids need to grow up happy, healthy and strong.

Kids Love The Taste. Parents Trust The Quality.

Natural Flavours: Strawberry, Lemon, Cherry, Orange, White Grape and Tropical Punch.

Features:

Gluten Free
Dairy Free
Peanut Free
Natural Source Colours and Flavours

Recommended Use: To help maintain good health. Adults and children (age 6 and up): Take two (2) gummy bears twice a day with a meal.

Each gummy bear contains:

Vitamin A (retinyl palmitate) ... 745 IU / 225 mcg RAE
Vitamin C (ascorbic acid) ... 7.5 mg
Vitamin D (cholecalciferol) ... 50 IU / 1.25 mcg
Vitamin E (d-alpha-tocopheryl acetate) ... 7.5 IU / 5 mg AT
Vitamin B-6 (pyridoxine hydrochloride) ... 0.25 mg
Folic Acid (folate) ... 100 mcg
Vitamin B-12 (cyanocobalamin) ... 1.5 mcg
Biotin ... 23 mcg
Vitamin B-5 ... 1.25 mg
(pantothenic acid) (calcium d-pantothenate)
Iodine (potassium iodide) ... 15 mcg
Choline (choline bitartrate) ... 5 mcg
Inositol ... 5 mcg

Non-Medicinal Ingredients: Glucose syrup, sucrose, gelatin, citric acid, natural source flavours (orange, strawberry, cherry, lemon, white grape, tropical punch), lactic acid, colours (black carrot extract, curcumin), fractionated coconut oil, and beeswax.

This product contains natural source colours and flavours. Contains no wheat (gluten), milk, lactose, eggs, peanuts, or soya.