Nylabone Advanced Oral Care Natural Dog Dental Kit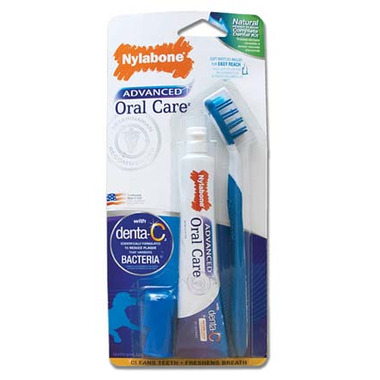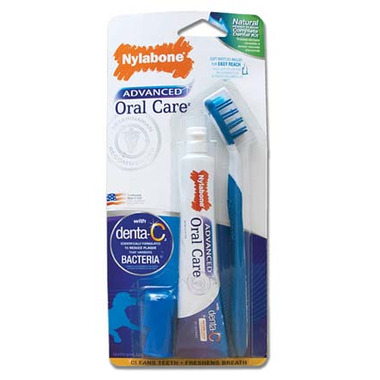 Nylabone Advanced Oral Care Natural Dog Dental Kit
Nylon tips clean between teeth while rubber massagers reduce plaque and tartar; made with natural peanut flavor.

Directions For Use:Toothbrush:
Begin by letting your dog taste a small amount of Nylabone Dental Toothpaste. Using your finger, gently rub teeth and gums in a circular motion.
Then introduce the toothbrush with a small amount of toothpaste.
Allow your dog to taste, then gently start brushing with a back & forth motion (no rinsing is necessary).
Finger Brush:
Place Nylabone Finger Brush over index finger (if necessary, place in warm water to expand).
Put a dab of Nylabone Pet Dental Toothpaste on bristles and slide finger inside pet's cheek.
Using small circular motion, massage teeth and gum line. No rinsing necessary.
Wash Finger Brush thoroughly when finished.
Ingredients: Glycerin,Calcium Carbonate, Water, Hydrated Silica, Sodium Bicarbonate, Sodium Ascorbyl Phosphate, Sodium Copper Chlorophyllin, Sodium Hexametaphosphate, Xanthan Gum, and Natural Flavor. Toothbrush: Nylon and Rubber.

Remember to praise and reward with a treat after every successful brushing!