Nylabone Advanced Oral Care Triple Action Dog Dental Kit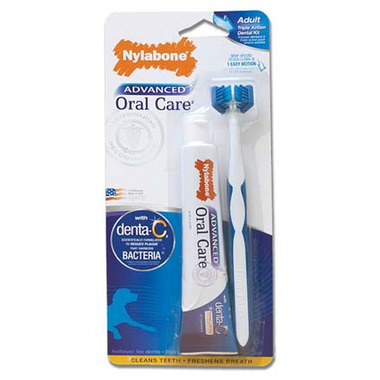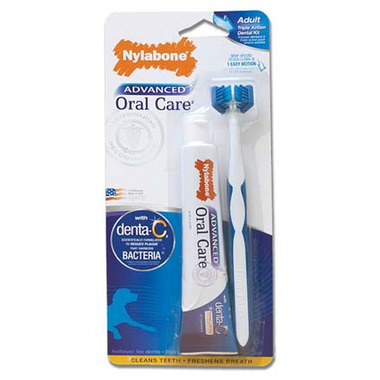 Nylabone Advanced Oral Care Triple Action Dog Dental Kit
Nylabone Advanced Oral Care Triple-Action dental kit designed to clean teeth in one easy motion; designed for both larger and smaller mouths.
Preventative dental care reduces the risk of developing oral disease, which can lead to serious issues for dogs. Establishing a daily routine of proper dental care may extend the life of your pet.


Directions:
Toothbrush & Toothpaste:
Begin by letting your dog taste a small amount of Nylabone Dental Toothpaste. Using your finger, gently rub teeth and gums in a circular motion.
Then introduce the toothbrush with a small amount of toothpaste.
Allow your dog to taste, then gently start brushing with a back & forth motion (no rinsing is necessary).
Ingredients:
Toothpaste: Sorbitol, Water, Silica, Glycerin, Cellulose Gum, Sodium Ascorbyl Phosphate, Sodium Copper Chlorophyllin, Sodium Hexametaphosphate, Tetrasodium Pyrophosphate, Flavor, Titanium Dioxide, Potassium Sorbate, Sodium Benzoate, and Magnesium Aluminum Silicate; Toothbrush: Nylon and Rubber.

Remember to praise and reward with a treat after every successful brushing!