Piggy Paint
Piggy Paint Piggy Paint Polish and Remover Set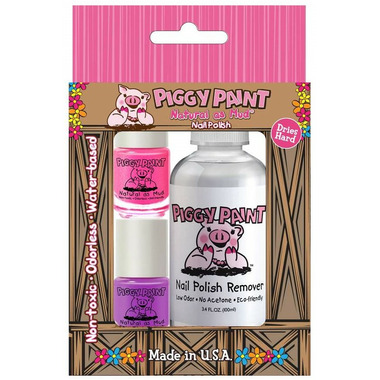 Piggy Paint
Piggy Paint Piggy Paint Polish and Remover Set
Description
Piggy Paint is specially formulated from natural ingredients and dries to a hard, durable finish. This kids nail polish has no toxic chemicals; it's free of formaldehyde, toluene, phthalates, Bisphenol A, ethyl acetate and acetone.
Say good-bye to harsh, smelly chemicals and hello to Piggy Paint…this natural nail polish is as Natural as Mud! You can also put harmful, smelly polish removers behind you with Piggy Paint Nail Polish Remover, a remover that works quickly on all polishes, especially Piggy Paint Nail Polish. This remover contains none of the solvents that could offend your nose or harm the atmosphere. Aloe Vera and Vitamin E are added to supplement the natural oils that protect nails and cuticles.

Features:
Non-toxic
Low Odor
Water-based formula
Hypoallergenic
Fun, vibrant colors
Dries to a hard, durable finish
Cruelty-free
Has a little bit of sparkle in the colour

Safe for use during Pregnancy!
Box set contains:
2 Piggy Paint mini polishes (3.5 ml) - 1 Pink and 1 Purple
2 oz. nail polish remover.
Highlights