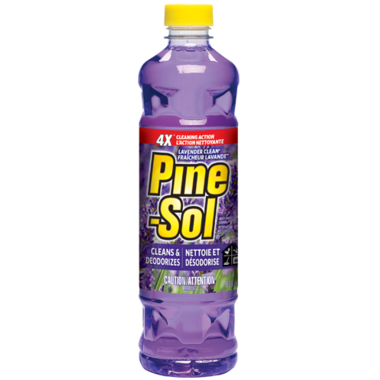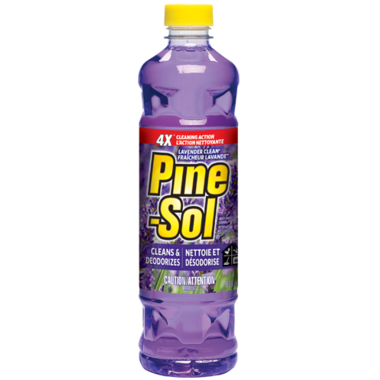 Pine-Sol
®
Lavender Clean
®
can deodorize and cut grease, grime and dirt in any room. It will make your home sparkling clean and leave it smelling like a calming field of lavender.
Features:

Powerfully cleans
Deodorizes and has a clean, fresh scent
Cuts through tough grease, grime & dirt
Directions:
Use 125mL per 8L of water. No rinsing required except on rubber or asphalt tile. For tough jobs, use full strength and rinse immediately. For no-wax floors, only use diluted and rinse.* Toilet Bowls: Pour 250mL in the bowl and brush thoroughly, including under the rim. *Do not use on marble, aluminum, or wood that is unfinished, unsealed, unpainted, waxed, oiled or worn
Nicole:
more than a year ago
Used to love the smell when I was younger and my mother would wash everything, when I say everything I really mean everything. When I found it here I had to buy it. My husband loves the smell of when I wash the bathrooms. Great product. Tough stains or regular wash, it does the job.
Vicki Lynn:
more than a year ago
I love cleaning my floors with pine sol - Lavender. I am glad you have it here but wish you could have the even larger bottle. This site helps me out because I am disabled and when I have to carry such products like Pinesol home it takes a lot. Would like it if you carried even larger Pine Sol because you will deliver to my home.
Page
1