Polysporin Opthalmic Ointment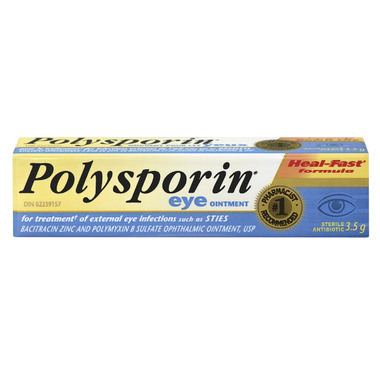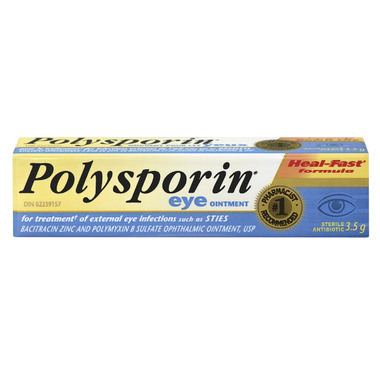 Polysporin Opthalmic Ointment
Polysporin Eye Ointment is a sterile antibiotic ointment for infections of the external eye such as sties.

Directions for Use: Apply POLYSPORIN Ophthalmic Ointment to inside or outside of eyelid 4 times daily.

How to Apply:

Gently pull down on the lower lid to create a pouch.
With eye open, gently squeeze the tube to apply about 1 cm of POLYSPORIN Ophthalmic Ointment along the pouch.
Close eye for one to two minutes and roll eye around.
Do not let the tube directly touch the eye.
Contact lenses should not be worn until the infection has resolved.
Because the ointment can get contaminated over time, discard the tube one month after opening and do not share product with others.

Medicinal Ingredients (per gram): 10,000 units Polymyxin B (as Sulfate), 500 units Bacitracin Zinc.

Non-medicinal Ingredients (alphabetically): butylated hydroxytoluene, petrolatum.

CAUTIONS: If irritation occurs, or in case of serious infection, or if infection has not started to clear in 2 days, discontinue use and consult a doctor. Consult a doctor before use if there is a sensitivity to light, continuous abundant discharge, pain in the eye, impaired vision, fever or scaling around the eye.