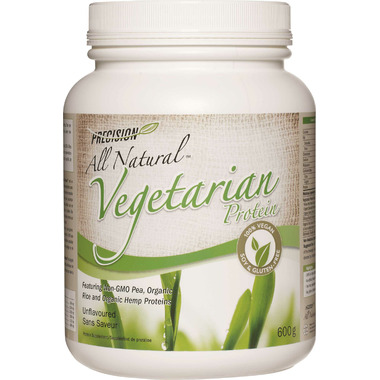 Description
Precision All Natural™ Vegetarian Protein
contains a blend of 6 non-GMO plant based proteins sources that includes Pea and Organic Hemp along with Organic Sprouted Amaranth, Millet, Pumpkin Seed and Quinoa. Each serving is high in vegan protein making it an ideal choice for anyone wishing to supplement their intake while avoiding both animal based proteins and artificial ingredients.
Precision All Natural™ Vegetarian Protein
is gluten, sugar, trans fat and cholesterol free. It has a pleasant flavour and easily blends into a protein rich shake or smoothie. It can also be added to muffins, waffles and pancakes to help increase their protein content.
Features:
No artificial flavours, colours or sweeteners
Free from pesticides, fertilizers and solvents
Gluten, trans fat and cholesterol free
Non GMO
Suggested Use: Add 1 scoop of Vegetarian Protein to 250 ml of the beverage of your choice. For best results, use a blender.
Ingredients: Pea Protein Isolate, Organic Hemp Protein Concentrate, Organic Sprouted Amaranth, Organic Sprouted Millet, Organic Sprouted Pumpkin Seed, Organic Sprouted Quinoa, Flax Seed, Guar Gum.
Highlights