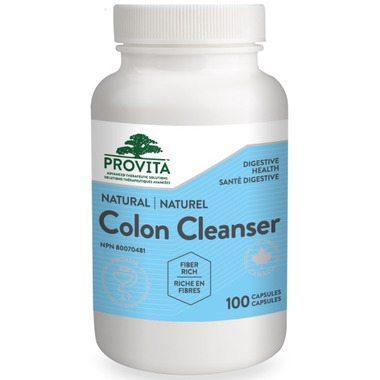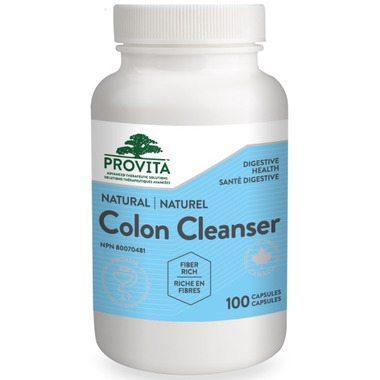 A synergistically blend to target constipation and maintain bowel regularity.
Maintaining regularity and a clean colon are extremely important for the maintenance of good health. An old saying states that "death starts in the intestines". A clean colon and a healthy gut flora are of utmost importance for our health. Provita's Colon Cleanser is a widely popular and uniquely balanced combination of ingredients to be used as part of a complete internal cleansing program.

Features:
Psyllium seed husks and Konjac increase the volume and water content of the stool
Senna leaf promotes peristaltic movement of the bowel
Black walnut provides anti-parasitic action
Slippery elm bark provides soothing action and the elimination of toxins

Lactobacilus acidophilus and Apple pectin promote healthy gut bacteria
Active Ingredients:
Each Capsule Contains:
Psyllium Seed Husk Powder (Plantago ovata)…………… .. …….…300 mg
Konjac Glucomannan Root (Amorphophallus) 90% extract……….60 mg
Black Walnut Powder extract (4:1) (Juglans nigra)…..……………..150 mg
Senna Leaf Powder (Cassia angustifolia)……………………….…………50 mg
Slippery Elm Bark (Ulmus fulva)……………………………………………..50 mg
Apple Pectin………………………………………………………………..………….25 mg
Acidophilus (Lactobacillus acidophilus)…………………………0.5 billion cfu
Non-Active Ingredients:
Rice Flour, Magnesium Stearate (vegetarian grade), Gelatin
Does not Contain: Dairy, egg, gluten, soy, wheat, corn, yeast, nuts, artificial sweeteners, colours or flavours
All adults can benefit from the use of our Colon Cleanser, the most complete formula for keeping your colon healthy.
Dosage:
Adults take 2 capsules 1 to 2 times per day on an empty stomach or as directed by your healthcare provider. Take with minimum one large glass of water (more than one glass of water is recommended).
Caution:
Do not take at least 1 hour before or after taking medication or other supplements. Consult your health care practitioner if you have a medical condition or are taking prescription drugs. Do not use if you are pregnant or nursing. Do not use if seal is broken. Keep out of reach of children. Keep sealed, store in a cool, dry place at 15–25ºC.