Quantum Thera Zinc Oral Spray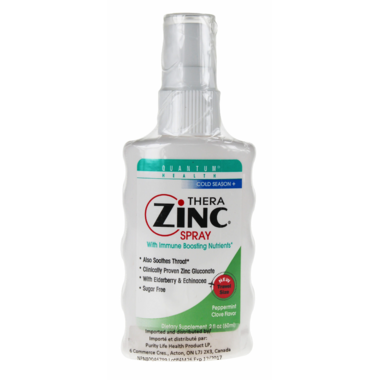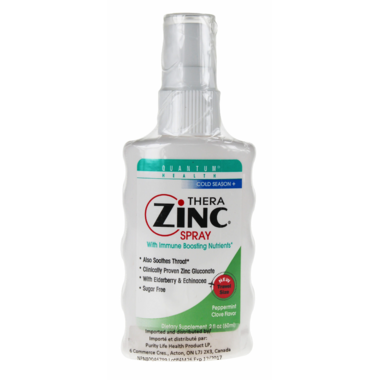 Quantum Thera Zinc Oral Spray
Two sprays every couple of hours of Thera Zinc Oral Spray delivers ionizable zinc to your throat. Thera Zinc is sprayed in the back of the mouth, sending powerful nutrients to the areas requiring the most protection. Thera Zinc can be used by adults and kids.
Features:

Smooth taste
Immune boosting nutrients Vitamin A, Slippery Elm, Larch, Marshmallow Root and Mullein
Ingredients:
Two Sprays contain: Zinc 7.8 mg, in a proprietary blend of Purified Water, Menthol, Peppermint Oil, Clove Bud Oil, Slippery Elm Extract, Stevia Extract, Echinacea Extract, Elderberry Extract and Wild Cherry Extract.
Johanne:
a few months ago
I am not an easy reviewer by any means but this product has far exceeded my expectations! I had a frog in my throat before an important call, used Thera Zinc, and my throat was instantly cleared. My daughter also used it twice for a sore throat that was just starting - and again, it almost instantly disappeared. Flavour is peppermint with an after-taste of cloves - I don't love cloves but will put up with it because the product works so well.
Page
1