Quest Kid's Daily One Chewable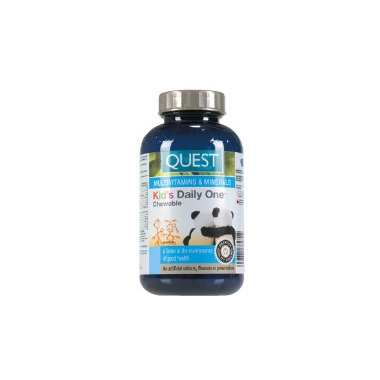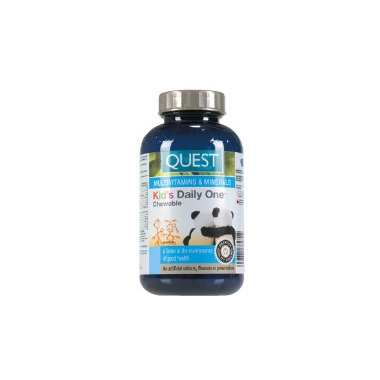 Quest Kid's Daily One Chewable
Quest Kid's Daily One Chewable is a high-quality, well-balanced, one-a-day multivitamin and mineral supplement designed specifically to meet the needs of children from 4 to 13 years. Formulated as a great-tasting chewable tablet, this supplement provides all the nutrients required to maintain children's overall good health.
Some children are picky eaters, and in our fast-paced world, with busy schedules and fast-food temptations, children may not always get all the nutrients needed to maintain good health. This formula has been designed to meet the unique needs of
children and can fill in the nutritional gaps to ensure normal growth and development.

Recommended:Use:
Helps maintain overall good health.
Dosage
: Children:
4 to 8 years: Take 1 tablet daily with food
9 to 13 years: Take 1 or 2 tablets daily with food
Take a few hours before or after taking medication.
Each great-tasting chewable tablet of Quest Kid's Daily One contains:
500 IU of beta-carotene, 2000 IU of vitamin A, 1 mg of thiamine, 1.5 mg of riboflavin, 5 mg of niacinamide, 5 mg of pantothenic acid B5 (calcium d-pantothenate), 50 mcg of folate (folic acid), 1 mg of vitamin B6 (pyridoxine HCl), 5 mcg of vitamin B12 (cyanocobalamin), 75 mg of vitamin C (calcium ascorbate), 200 IU of vitamin D (cholecalciferol), 7.5 IU of vitamin E (d-alpha-tocopheryl acetate), 5 mcg of biotin, 50 mcg of iodine (potassium iodide), 65 mg of calcium (phosphate tribasic), 500 mcg of
copper (gluconate), 2 mg of iron (ferrous fumarate), 32.5 mg of magnesium (oxide), 1 mg of zinc (oxide), and natural flavours.
This product does not contain artificial colours or flavours, dairy, egg, gluten, shellfish, soy, or sulphites.
Consult a health care practitioner if the child has a serious illness or is taking any medications.
Nutritional supplements should always be kept out of reach of children.