Schick Quattro Titanium Trimmer
1 razor with trimmer, 1 cartridge, 1 AAA batt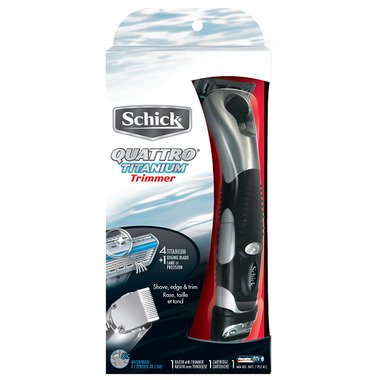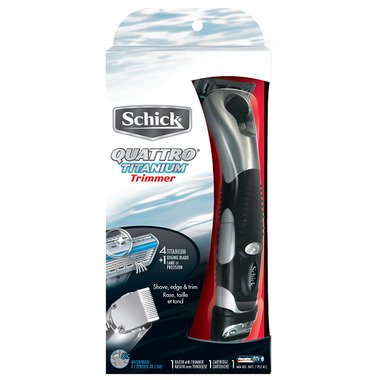 Schick Quattro Titanium Trimmer
1 razor with trimmer, 1 cartridge, 1 AAA batt
Schick Titanium Trimmer is a convenient 3 in 1 shaving tool to shave, edge and trim your facial hair. It has 4 blades each with a unique titanium coating and a single titanium coated trimming blade for exact precision in hard to reach places. New lubricating strip with Aloe and Vitamins E & Pro-B5 for exception glide. Innovative ergonomic handle with rubber coating for ultimate control, even in the shower.
Front and Back Views: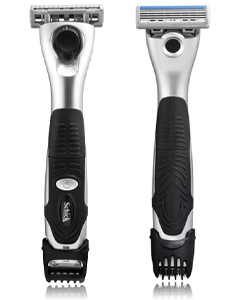 Bhaskar:
more than a year ago
The product was found to be very handful and excellent - all in one for a person to shave - the trimmer - the blade which seems to be quite useful and I have been using it for the last one year - I could not find any problem in the quality.
I wish you to market your products world wide so that many persons will enjoy the benefit of your small tool.
Really there are no words to describe your product - Excellent.
I have been searching for this product for the last few months but could not find any in UAE - can you suggest any in Fujairah - so I can give to my friends.
Page
1