Simple
Simple Kind to Skin Facial Wipes Cleansing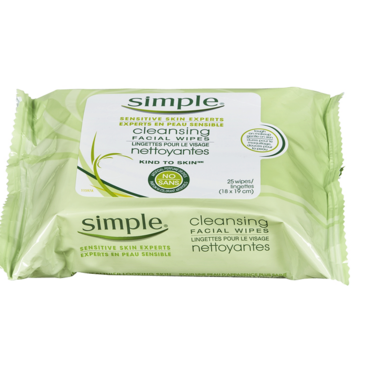 Simple
Simple Kind to Skin Facial Wipes Cleansing
Description
Tough on Makeup Gentle on Skin
Everyday cleansing can be harsh on skin. Simple Kind to Skin Cleansing Facial Wipes are merciless on makeup yet softer than silk; designed for sensitive skin. The improved Simple cleansing wipes are made of softer than silk fibres; gentle cleansers; purified water and skin-loving ingredients such as Vitamin B5 and Vitamin E. These soft facial wipes lift away dirt; grease; impurities and makeup effectively; even waterproof mascara; while instantly hydrating your skin. Does not dry skin out; irritate skin; or leave residue. Skin is left feeling thoroughly clean; fresh and instantly hydrated.

Fresher Wipes for Longer with Aqua-lock™ Technology
The new improved packaging incorporates the aqua-lock™ technology which helps prevent these Simple face wipes from drying out so every wipe stays fresh and effective; even the last one. Convenient and quick-to-use; these facial wipes are an indispensable addition to any makeup bag; gym bag and bathroom to give a gentle cleanse or touch-up for naturally healthy-looking skin every day; wherever you are.
Made Without Skin-upsetting Ingredients:
It's not just what's in your makeup wipes that's important; it's also what's not. There are no dyes; no alcohol; no animal derived ingredients; no artificial perfumes; and no harsh irritants that can upset your skin. That's the Simple promise. Simple makeup wipes are also hypoallergenic; paraben-free; dermatologist tested and non-comedogenic; so you can feel great knowing you're treating your skin the way it deserves to be treated. Our skin faces a lot each day – dirt and pollution from urban areas; cold Canadian winters; heating and air-conditioning; even a lack of sleep and eating on the go. In the short term these things can lead to dry patches; redness; blemishes and cause your skin to feel sensitive. Simple makeup remover wipes are suitable for all skin types; especially sensitive skin.
Features:
Simple Cleansing Facial Wipes gently cleanse skin of impurities and unclog pores; in the convenience of a facial wipe
Instantly refreshes and hydrates your face leaving skin feeling clean with no greasy residue
Containing multi-vitamins and triple purified water
New aqua-lock™ technology; prevents the wipes from drying out so even the last wipe is as fresh as the first¬
Hypoallergenic; non-comedogenic; paraben-free and contains no animal derived ingredients
Contains no harsh irritants; no artificial perfumes and no dyes so you can feel comfortable using it on even the most sensitive skin
Directions:
Gently wipe Simple Kind to Skin Facial Cleansing Wipes over eyelids; face; neck and even lips to cleanse the skin. Mascara won't budge? Hold the wipe over stubborn areas for a few seconds before wiping. Stop your wipes drying out by remembering to reseal the pack. Throw used wipes in the bin; DO NOT FLUSH. The environment will be thankful for it.
Ingredients:
Aqua, Cetearyl Isononanoate, Panthenol, Tocopheryl Acetate, Glycerin, Cetearyl Alcohol, Ceteareth2, Glyceryl Stearate, Ceteareth12, Sodium Citrate, Disodium EDTA, Phenoxyethanol, Sodium Benzoate, Sodium Dehydroacetate
Features
Simple Cleansing Facial Wipes gently cleanse skin of impurities and unclog pores; in the convenience of a facial wipe
Instantly refreshes and hydrates your face leaving skin feeling clean with no greasy residue
Containing multi-vitamins and triple purified water
New aqua-lock? technology; prevents the wipes from drying out so even the last wipe is as fresh as the first?
Hypoallergenic; non-comedogenic; paraben-free and contains no animal derived ingredients
Contains no harsh irritants; no artificial perfumes and no dyes so you can feel comfortable using it on even the most sensitive skin