Skip Hop
Skip Hop Zoo Bibs Tuck-Away Bib Bee Design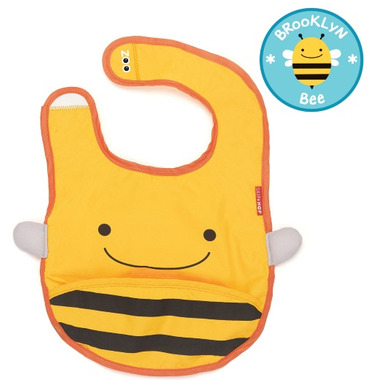 Skip Hop
Skip Hop Zoo Bibs Tuck-Away Bib Bee Design
Description
Skip Hop Zoo Bibs Tuck-Away Bib tucks into its own built-in pouch! Lightweight and water-resistant with a handy catch-all pocket to keep things neat and tidy at mealtime. Skip Hop's ZOO Bibs have a clever tuck-away pouch - perfect for travel or for storing when dirty. Plus the adorable ZOO face and details are sure to delight baby at every meal.
Features:
Sized to fit ages 6 months to 3 years
Built-in tuck-away pouch - perfect for travel and storing dirty bibs
Lightweight, water-resistant material
Catch-all food pocket
Soft-touch hook and loop fastener closure
Food safe: BPA-free, PVC-free, Phthalate-free
Machine wash cold, gentle cycle, no bleach. Air dry.
Love this Skip Hop Bee Bib? Discover the matching plate and bowl!