Skip Hop
Skip Hop Zoo Insulated Food Jar Owl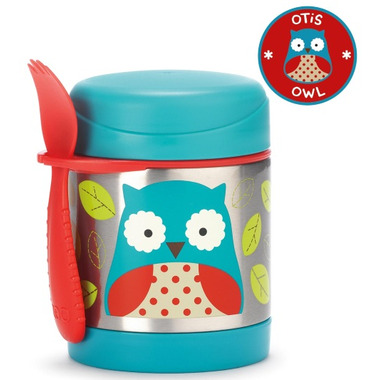 Skip Hop
Skip Hop Zoo Insulated Food Jar Owl
Description
Keep food warm or cold with a Skip Hop Zoo Insulated Food Jar!
This colorful stainless steel container keeps kid-sized portions warm or cold. Store the spork, or most utensils, in the handy built-in holder so your little on is ready for meals on-the-go.

Is your lunch garbage free? Reduce your environmental footprint with more of these reusable litterless lunch essentials on our blog, The Well!
Features:
Stainless steel body keeps food hot or cold for hours
Signature Zoo characters
Built in holder fits most utensils
Includes a spork (spoon+fork!)
Holds 325 mL (11 fl oz)
BPA-free, PVC-free & Phthalate-free
Size (cm): 9.4l x 8.75w x 12h
Suitable for ages 1 year and up.