- We're sorry, this product is no longer available!
- Shop for other products in: Laundry Detergent

The SmartKlean Laundry Ball is chemical free, environmentally responsible way to do your Laundry using Bio-Ceramics made in Sweden. These are great for anyone with Sensitive Skin, Allergies, Eczema, Psoriasis or just wants to get rid of the Chemicals and save money at the same time.
Features:
Saves you Money
100% Hypoallergenic
Easy on Clothing
Environmentally Friendly
Saves on Water Usage
Effective on Cloth Diapers
How it Works:
The laundry ball is filled with four types of mineral-derived ceramic beads and two magnets, each performing different cleaning functions. When these components come in contact with water, they form 'oxygenated' water with an increased pH level and an ability to eliminate germs and bacteria. The result is fresh, safe and clean laundry!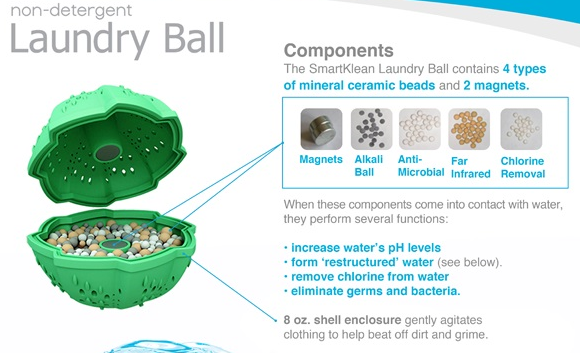 Another advantage to the SmartKlean laundry ball is you can skip the rinse cycle to save water as there is no Soap Residue to rinse out (yes no more double rinses!) Or you can use the quick wash going from over an hour per wash to less than thirty minutes depending on the machine being used.

Warning: Cleaning your washing machine is recommended to avoid staining from detergent residues. Borax and Washing Soda are recommended for hard water situations.