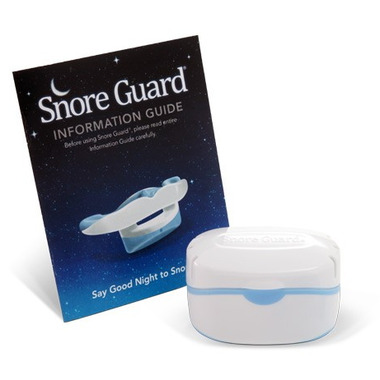 Description
Snore Guard Anti-Snoring Device is a prescription-free way to help prevent snoring!

Snoring happens when your jaw relaxes during sleep allowing soft tissue in your throat to collapse and block the airway. These soft tissues rub together to create noise. Snore Guard works by holding your jaw slightly forward while you sleep. This is called mandibular repositioning and effectively keeps your airway open so the soft tissue at the back of your throat doesn't vibrate and cause snoring.

Snore Guard is clinically proven to reduce snoring and treat symptoms of mild to moderate obstructive sleep apnea.

How does Snore Guard fit? It is quick and simple to perfectly fit your Snore Guard. Warm the device with boiling water and shape it to your mouth. Detailed instructions and pictures are included with every Snore Guard to answer any questions you will have as you fit the device.

How Snore Guard Works:

Alternative Product Views:







Shipping & Returns
Unfortunately, due to the nature of this item, we cannot accept any returns.
We are only able to ship this item to Canadian customers.
Click here for more information