Super Human Recovery Protein Elite Series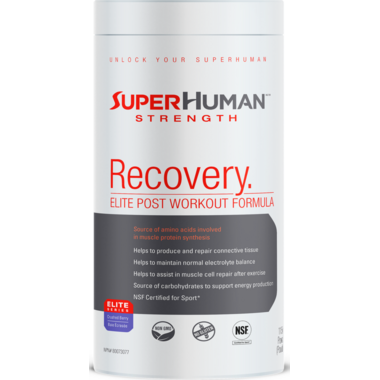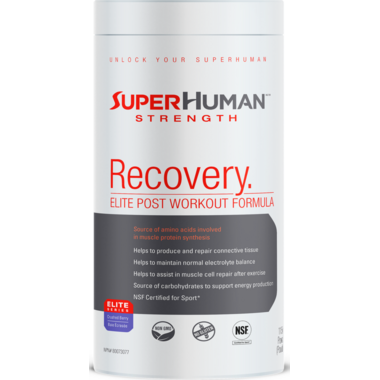 Super Human Recovery Protein Elite Series
NZ Whey, carb 10, w/ vit's, BCAA, & electrolytes, NPN 80073077-Berry

Contains NZ Whey Protein & A Mineral And Vitamin Blend

Recovery Elite Post Workout Formula by SuperHuman is a supplement that provides over 27g of pure New Zealand Whey Isolate protein, as well as 27g of our engineered carbohydrate matrix that includes; organic cane sugar, potato starch and pea starch, not to mention relevant doses of vitamins and minerals in each dose. Recovery contains unique ingredients that have been clinically proven to help restore and replenish energy.
Please see our image of our fact panel and the following ingredients:

Ingredients:
New Zealand Whey Protein Isolate,
Organic Cane Sugar, Carb10 (Legume-based
starch derived from pisum sativum (peas)), Potato
Starch, Natural Flavour, Citric Acid, Taurine, Vitamin
& Mineral Blend (Vitamin A (Vitamin A Palmitate),
Vitamin C (Ascorbic Acid), Vitamin D2
(Ergocalciferoil), Vitamin E (dl-Alpha Tocopheryl
Acetate), Vitamin K (Phytonadione), Vitamin B1
(Thiamine Mononitrate), Vitamin B2 (Riboflavin),
Vitamin B3 (Niacinamide), Vitamin B6 (Pyridoxine
Hydrochloride), Folic Acid, Vitamin B12
(Cyanocobalamin), Biotin, Pantothenic Acid
(Calcium D-Pantothenate), Potassium (Potassium
Citrate), Sodium (Sodium Chloride, Sodium Citrate),
Phosphorous (Tricalcium Phosphate, Magnesium
Phosphate), Calcium (Tricalcium Phosphate,
Calcium Lactate), Iron (Ferric Orthophosphate),
Iodine (Potassium Iodide), Magnesium (Magnesium
Phosphate), Zinc (Zinc Oxide), Copper (Copper
Gluconate)), Red Beet Powder (colour), Stevia Leaf
Extract, Sunflower Lecithin (as an emulsifier).