Swiss Natural Omega 3 1000 mg
EPA 300 mg / DHA 200 mg
120 Soft Gel Capsules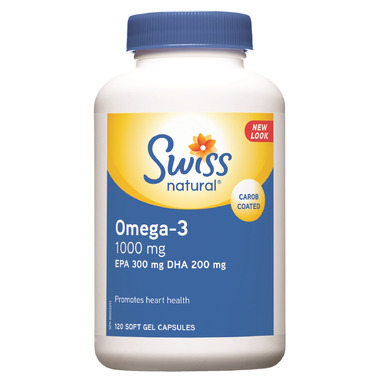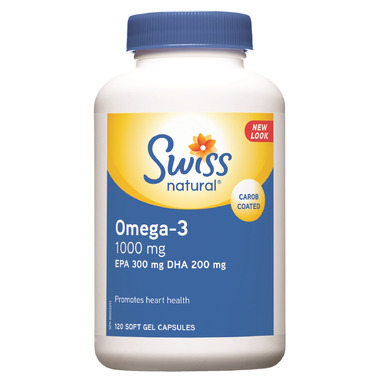 Swiss Natural Omega 3 1000 mg
EPA 300 mg / DHA 200 mg
120 Soft Gel Capsules
- We're sorry, this product is no longer available!
- Shop for other products in: Omega Fatty Acids

Omega-3 1000mg helps promote heart health in adults by attacking the bad fats and neutralizing them. It provides 300mg of EPA and 200mg of DHA per soft gel capsule.
The two nutritionally important Omega-3s are:
Alpha-linolenic acid (ALA): a long-chained fatty acid that is used by the body to form EPA and DHA. Often sourced from flaxseed oil
Eicosapentaenoic acid (EPA) and Doscosahexaenoic acid (DHA): both are long-chained fatty acids. High concentrations are found in fish oil

Good sources of EPA and DHA come from small fish and tuna which provide a high concentration of these omega-3 fats. EPA and DHA do not require further metabolism, (like ALA) therefore are ready for our body to put to work.