Swisse Ultiboost Liver Detox Value Size
Swisse Ultiboost Liver Detox is a premium quality formula containing ingredients used in herbal medicine to help support liver function, aid digestion and relieve digestive disturbances. Traditionally used in herbal medicine as a heparoprotectant/ liver protectant and to help relieve flatulent dyspepsia (carmentative). Also provides antioxidants to help protect against oxidative damage caused by free radicals.
Ingredients: Globe artichoke (Cynara cardunculus, Leaf) (50:1, QCE 1 g) 20mg; St. Mary's thistle (Silybum marianum, Fruit) (28.6 mg Silybin, 70:1, QCE 2.5 g) 35.7142mg; Turmeric (Curcuma longa, Rhizome) (48.75 mg Curcuminoids, 20:1, QCE 1.5 g) 75mg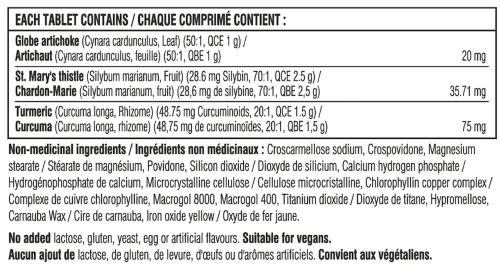 Caution: Consult a health care practitioner prior to use if you are pregnant or breastfeeding; if you have gallstones, stomach ulcers or excess stomach acid; or if symptoms persist or worsen. Do not use if you are allergic to plants of the Asteraceae / Compositae / Daisy family or have a bile duct obstruction. Hypersensitivity, such as allergy, has been known to occur; in which case, discontinue use.