Tera's Whey
Tera's Whey Organic Bourbon Vanilla Whey Protein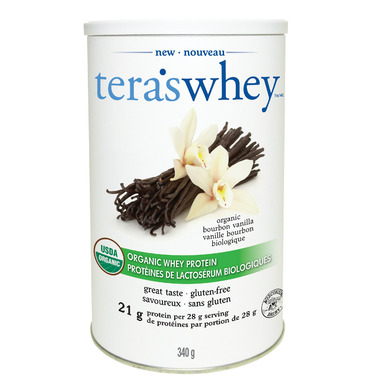 Tera's Whey
Tera's Whey Organic Bourbon Vanilla Whey Protein
Description
Tera's Whey is a fresh USDA certified organic whey protein powder concentrate from ethically treated cow milk sources. Paired with premium ingredients including antioxidant super fruits and low glycemic organic stevia, Tera's Whey delivers a taste unlike any other.
All of Tera's Whey protein supplements are gluten free and offer an alternative to conventional products for people who are concerned about chemicals in the environment and their bodies.
Tera's Whey Organic Bourbon Vanilla Whey Protein is made with real Bourbon Vanilla. Prized by pastry chefs everywhere, its a vanilla bean which was first grown on the island of Bourbon, just off the coast of Madagascar.
Features:
Made with organically grown Bourbon vanilla (no alcohol)
Certified Organic
Gluten Free
Kosher
All of Tera's Whey ingredients are sourced from sustainable family dairy farms and stewards of endangered ecosystems around the world.
Directions:
Add two heaping scoops of Tera's Whey to 355 mL water, milk or your favourite juice. Mix in shaker bottle or blender.
Ingredients: Organic Dairy Whey Protein Concentrate, Organic Vanilla, Sunflower Lecithin, Stevia Leaf Extract.
Contains: Milk. May contain: soy, egg, and wheat.
Highlights