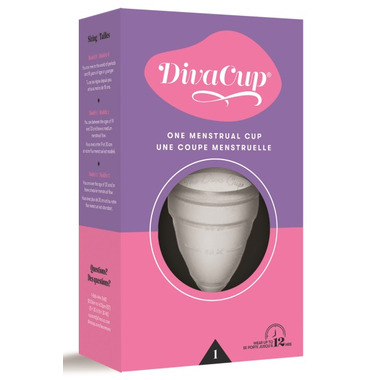 Menstrual Cup
The DivaCup - Model 1
is rated out of
5
by
11
.
---
Description
The DivaCup is a reusable, bell-shaped menstrual cup that is worn internally and sits low in the vaginal canal, collecting rather than absorbing your menstrual flow. Menstrual cups have existed since the 1930s when women were searching for an alternative to the choices of the time. Yet, its breakthrough into the feminine hygiene industry is much more recent.
The DivaCup empowers women to connect with their bodies and menstrual cycles like never before. Many women feel uneasy about changing their menstrual care routine. Years of dealing with the sights and odours of disposable tampons and pads cause the familiar reaction: "ick!". Perfect for all activities (on air, land or sea), the DivaCup is easy to use and makes for a better period experience.
Join women worldwide by switching to the DivaCup today!
Features:
12 hour leak-free protection!
Made from the highest quality healthcare grade silicone to assure comfort and durability
Does not contain any of the following: latex, plastic, PVC, acrylic, acrylate, BPA, phthalate, elastomer, polyethylene, and free of colors and dyes
Reusable and eco-friendly – no waste, no chemicals
Features extra grip ridges for easier removal
Cleared for marketing by the US FDA and the Australian TGA and the only reusable menstrual cup allowed to be sold in Canada by Health Canada
Diva International Inc. is the only ISO 13485:2003 certified menstrual cup manufacturer and head office in the world!
Highlights

Shipping & Returns
Unfortunately, due to the nature of this item, we cannot accept any returns.
We are only able to ship this item to Canadian customers.
Click here for more information
Rated

5

out of

5
by
HMP04
from
I've been using it for over a year
I have found the diva cup so easy to use and I never have to worry about have a tampon around anymore. So much money saved with one purchase a year and panty liners which I already wore with tampons. After the first couple of days my first month I realized I didn't even feel it anymore just like a tampon. I can put it in the morning, change it after work, and right before bed; and never worry about how many times I have to go to the bathroom in between which would have resulted in so many tampons used. This is my second order as they recommend a new one each year.
Date published: 2020-05-20
Rated

1

out of

5
by
Rebecca
from
Does not work for everyone
Bought this years ago. It was the right size, and I followed the directions on point. This was such a disappointing waste of money. I have tried it over and over again-- watching tutorials and reading tips online to try and make it work. It leaks every single time without fail. Like many other women, I had very high hopes but it just did not work for me no matter what I did (and it is not because I couldn't get over a 'learning curve'). It's also not because of a heavy flow-- it just doesn't fit some women properly. Please consider this before spending the money.
Date published: 2020-08-25
Rated

5

out of

5
by
M
from
Great product!
I really like this product. I was looking to get away from single use menstrual products and it took awhile to order a Diva Cup but I'm glad I did. It's flexible but stays in place. I actually find it more comfortable than a tampon, although it can press on your bladder a little bit. It definitely takes some practice to use it and get it in the right spot. I have found it really empowering to not have to buy menstrual products anymore. I highly recommend!
Date published: 2021-05-26
Rated

5

out of

5
by
Kat
from
Life changing
Diva Cup was life changing for me. I switched to a cup (the first one I got was natural rubber and needed to be replaced after about 8 years) in the late 90s and never went back. I originally got it for the environmental benefits and cost-effectiveness, and had no idea how much easier my life would become. I had heavy periods and this cup made it so I only had to check in, almost never had to do anything with it during a typical work day. I would sometimes wear period underwear as a back up on my heaviest days but that was more for peace of mind than anything. It took a bit of practice before I learned to get it placed correctly on the first try, but once it clicked, it was easy after that. Worry free living, including all the sports that tampons are supposed to make you good at ;)
Date published: 2020-01-13
Rated

1

out of

5
by
alli
from
Uncomfortable
This was the first menstrual cup I bought and I did not like it. The material is not very flexible it's a bit hard and for me I felt the cup there are much better ones you can buy on amazon that are more flexible and soft, and much more comfortable. This is only my experience though as every woman's body is different I just didn't have the greatest experience with this cup, especially for women who are new to using menstrual cups.
Date published: 2020-05-02
Rated

5

out of

5
by
Samfa
from
Returning Satisfied Customer
This is my 2nd Diva Cup. My first one is 2 years old and still works great but I thought its probably time to replace it. I will keep it as a backup for sure tho. I love how easy it is to use (the first few times are a bit weird/tricky but you'll figure it out in no time) I love not having so much garbage attached to my cycle. I pair mine with a washable/reusable panty liner on heavy days. And it's comfy and super flexible
Date published: 2021-05-23
Rated

5

out of

5
by
Michelle G
from
AMAZING!
Was a bit nervous to try this product. I've been using it for 4 days and I will NEVER go back to anything else. So much cleaner, easy to use wants you get the hang of it, not smelly...LOVE IT. Great product and have recommended it to everyone that will listen.
Date published: 2021-01-26
Rated

5

out of

5
by
Sil
from
Best zero waste option
I've been using diva cup for about 10 years now and I will never switch to another brand. I keep repurchasing this brand because the fit is great, I like that there are no dyes. This is so much more cost effective than purchasing pads or tampons and much less wasteful. I preach to everyone about it and I've gotten a few people to jump on board and they love it too.
Date published: 2020-12-21