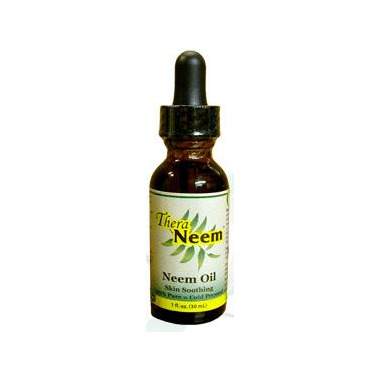 30 mL
TheraNeem Pure Neem Oil
is rated out of
5
by
17
.
---
Description
High in essential fatty acids and antioxidants.
Gentle and nourishing for itchy, irritated and sensitive skin.
Neem oil is a gentle alternative to tea tree oil, but with similar therapeutic benefits.

Apply 100% Neem oil directly to the skin, or add a drop or two to your favorite pet shampoo.

Ingredients: 100% pure, cold pressed, wild-crafted and/or certified organic Neem oil.
Highlights

Rated

5

out of

5
by
Alicia
from
I read somewhere that this was to have the same benefits as tea tree oil but with a less offensive smell...WRONG!! Two true things I found with this Neem Oil --one, the smell is very spicy and two, it worked wonders for my infant daughters wide spread eczema. We used a dropperful in her baby bathtub and noticed that the redness and itchiness decreased. Her eczema was so bad, I didn't care that we had to trade off that sweet baby smell for the relief and improvement in her skin.
Date published: 2013-11-06
Rated

5

out of

5
by
Wanda
from
Am i the only one who didn't think it smelled bad? Apparently! In any case, i have psoriasis and neem oil helps like nothing else. A few drops soothes my skin. Great product, will be buying more when i run out!
Date published: 2014-05-01
Rated

4

out of

5
by
JB
from
The reviewer before me is correct in their assessment of it's pungent smell -- it truly does smell awful. BUT, if you can stand the smell, it also works very well. I have a skin condition that involves my suffering recurrent boils and this neem oil helps my open wounds heal faster. So yes it stinks, but it works!
Date published: 2011-12-15
Rated

5

out of

5
by
Marion
from
I have just recently purchased this product and as a first use I am trying it as a night oil on my face which is very dry. I use a very tiny amount and so far it seems to do the job - in the morning my face feels smooth and not dry. It does have a strong odor. A small amount goes a long way.
Date published: 2016-06-07
Rated

4

out of

5
by
Amy
from
This stuff really stinks, but after using it a couple of times it doesn't bother me anymore. Works well in making my face smooth but it makes me break out only on my forehead. Will continue to use and see if it improves.
Date published: 2012-11-09
Rated

5

out of

5
by
Karen
from
Great high quality neem product. All neem oil smells, but considering it cured my toenail fungus, I'll take the smell any day!
Date published: 2014-06-13
Rated

5

out of

5
by
Patricia
from
GR8 product... many uses we make our own bug spray with a few drops of this and it works
Date published: 2012-06-21
Rated

5

out of

5
by
Gala
from
as has been mentioned, the smell of this oil is quite pungent and the taste is not much better (my area of irritation is above my lip hence being subjected to its taste). otherwise it is very effective at calming my eczema and it is absorbed relatively quickly.
Date published: 2015-11-05