TheraNeem Tooth & Gum Powder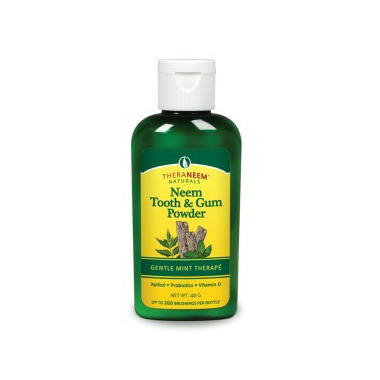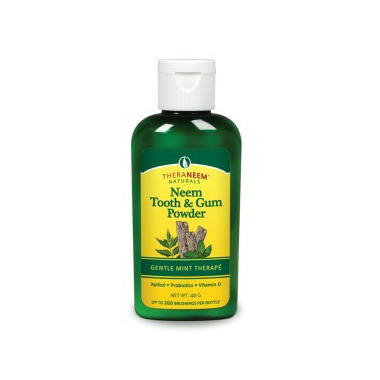 TheraNeem Tooth & Gum Powder
Neem has been used for thousands of years to support healthy teeth & gums. Modern science has validated this traditional use and ongoing research confirms its efficacy for oral health care.
Features:
Contains Concentrated Organic Neem Leaf & Neem Bark
Contains super-potent Supercritical CO2 Extracts for maximum therapeutic actions
Contains Xylitol, Probiotics and Vitamin D for complete gum health support
Cost effective! Up to 200 hundred brushings per bottle!
Sulfate Free
Gluten Free
Flouride Free
Paraben Free
No Artificial Colours or Flavours
Instructions:

Brush with Neem Tooth & Gum Powders or Toothpastes
Rinse with Neem Mouthwash
Internal support with Supercritical Extract of Neem Leaf

Ingredients:
Xylitol, Sodium Bicarbonate, Supercritical Extracts of Peppermint Leaf, Spearmint Leaf, Neem Leaf, Neem Bark, Anise Fruit and Clove Bud, Sodium Methyl Cocoyl Taurate, Maltodextrin, Calcium Carbonate, Sea Salt, Silica, Natural Flavor, Stevia Rebaudiana Leaf Extract, Streptococcus Salivarius K12 (probiotics), Cholecalciferol (Vitamin D-3) Powder.


Melissa:
more than a year ago
I've had this for a month and it seems to be a great product so far. I use it once a day in addition to typical natural toothpaste. It seems as though my teeth are whiter since using it so I think it does clean the teeth very well. I like the taste. It is very mild, minty with a hint of clove. The price and the powdery aspect are sort of the cons for me. However, in spite of the powdery part it foams pretty well when brushing and is much better than pure baking soda. Not sure how it will pay off in terms of strengthening my teeth or preventing decay as only time will tell.
Page
1