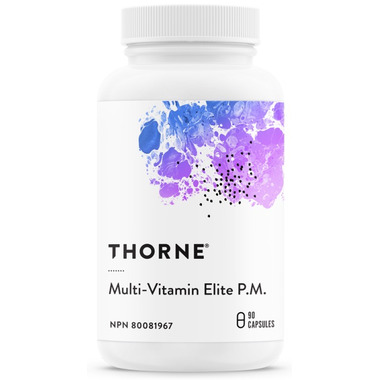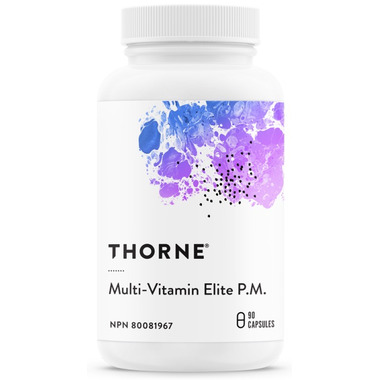 A multi-vitamin/mineral product is the starting point for every individual's supplementation needs and therefore it should contain all of the essential nutrients. A good multi-vitamin/mineral nutritional supplement could be considered "dietary insurance" to be certain all of the essential nutrients are being consumed on a daily basis.
Thorne's Multi-Vitamin Elite PM formula helps boost energy during the daytime, assists in maintaining the body's ability to metabolize nutrients and provides antioxidants for the maintenance of good health. It also helps in the function of the thyroid gland and maintaining immune function.

Medical Ingredients:
Medicinal Ingredients:
Magnolia officinalis (bark extract) 18.3 mg
Standardized to 8.5% honokiol
Phellodendron amurense (bark extract) 6.1 mg
Standardized to 2.5% berberine
Vitamin C (Ascorbic Acid) 50 mg
Magnesium (Magnesium Bisglycinate) (TRAACS®) 35.7 mg
Choline (Choline Citrate) 33.3 mg
Calcium (Calcium Bisglycinate) (TRAACS®) 16.7 mg
D-gamma-Tocopherol (Mixed tocopherol concentrate) 8 mg
Zinc (Zinc Bisglycinate) (TRAACS®) 6.7 mg
Vitamin E (d-Alpha-Tocopheryl Acid Succinate) (6.7 IU) 4.5 mg AT
Boron (Boron Glycinate) (Bororganic™) 667 mcg
Manganese (Manganese (II) Bisglycinate) (TRAACS®) 500 mcg
Copper (Copper (II) Bisglycinate) (TRAACS®) 250 mcg
Lutein (oleoresin of Tagetes erecta L. (Asteraceae)) 200 mcg
Biotin 167 mcg
Folate (L-5-Methyltetrahydrofolic Acid, Glucosamine Salt) 134 mcg
Chromium (Chromium (III) Nicotinate Glycinate) (TRAACS®) 66.7 mcg
Vitamin A (Palmitate) (134 IU) 40.5 mcg RAE
Vitamin K1 34 mcg
Vitamin K2 33 mcg
Selenium (L-Selenomethionine) 33.3 mcg
Beta Carotene (all-trans-beta-Carotene) (200 IU) 30 mcg RAE
Iodine (Potassium Iodide) 25 mcg
Molybdenum (Molybdenum (VI) Bisglycinate) (TRAACS®) 16.7 mcg
Vitamin D3 (Cholecalciferol) (167 IU) 4.2 mcg
Non-Medicinal Ingredients:

Hypromellose (derived from cellulose) capsule
Pregelatinized Starch
Corn Starch
Microcrystalline Cellulose
Silicon Dioxide
Calcium Laurate
Recommended Dose:
Take one capsule daily, in the evening. Take with food. Take a few hours before or after taking other medications or natural health products.
Risk Information:
For Adult Use Only. Consult your health professional prior to use if you are taking blood thinners.