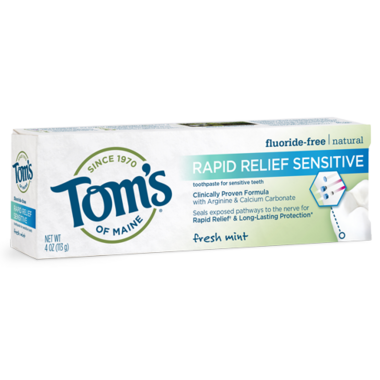 Description
Tom's of Maine Rapid Relief Sensitive Toothpaste uses a powerful combination of arginine and calcium carbonate — both derived from natural sources — to seal the pathways to sensitive tooth nerves to help block the pain. Our patented, clinically proven formula provides relief in 60 seconds* and long-lasting protection with continuous use.

*This patented formula provides rapid relief when directly applied to the sensitive tooth with fingertip and gently massaged for 1 minute.

Ingredients: Arginine Bicarbonate, Benzyl Alcohol, Calcium Carbonate, Hudrated Silica, Natural Flavor, Sodium Bicarbonate, Sodium Lauryl Sulfate, Sorbitol, Titanium Dioxide, Water, Xanthan Gum, Xylitol.

Tom's of Maine does not use artificial colours, artificial flavours or fragrances, or artificial preservatives. Additionally Tom's of Maine products are made without animal ingredients and are gluten free.

Highlights