Traditional Medicinals Organic Echinacea Plus Tea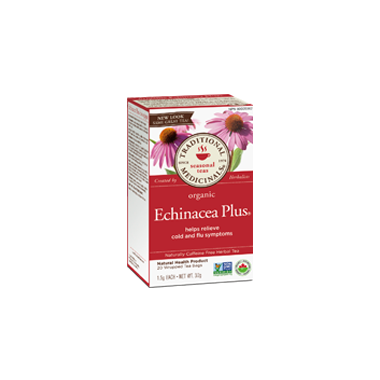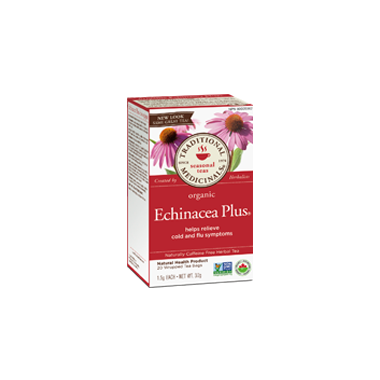 Traditional Medicinals Organic Echinacea Plus Tea
Traditional Medicinals Organic Echinacea Plus is an herbal tea traditionally used to fight off colds, flus and infections, especially of the respiratory tract.
Recommended dose:
Adults and children over 12 years: Drink 5 cups daily at the first onset of symptoms and reduce 1 cup per day for the next five days. Repeat as needed.
Directions of use:
Pour 240 mL freshly boiled water over 1 tea bag and allow to steep, covered, for 10 to 15 minutes. Gently squeeze the tea bag to release the remaining extractive.
Duration of use:
May be used up to 10 to 21 days.
Medicinal ingredients:
Each tea bag (1.5g) contains: Organic purple coneflower herb
(Echinacea purpurea)
1,065 mg*, organic purple coneflower root (6:1 extract) 37.5 mg
(Echinacea purpurea)
equivalent to 225 mg of purple coneflower, organic narrow-leaf echinacea herb
(Echinacea angustifolia)
30 mg*.
Non-medicinal ingredients:
Organic West Indian lemongrass leaf
(Cymbopogon citratrus)
, organic spearmint leaf
(Mentha spicata)
.
Cautions:
Consult a health care practitioner before use if you have rheumatoid arthritis, an auto-immune disorder or a progressive systemic disease such as tuberculosis, leucosis, collagenosis, multiple sclerosis, AIDS or HIV infections. Consult a health care practitioner prior to use if you are taking immunosuppressants, or if symptoms persist.
Contraindications:
Do not use if you are pregnant or breastfeeding. Do not use if you have an allergy to Asteraceae/Compositae (the daisy family) plants.
KEEP OUT OF REACH OF CHILDREN
Each tea bag is safety sealed in a tamper-evident envelope.
* Grown in the U.S.A.
Traditional Medicinals
®
is certified by the California Certified Organic Farmers (CCOF)
99% organic ingredients