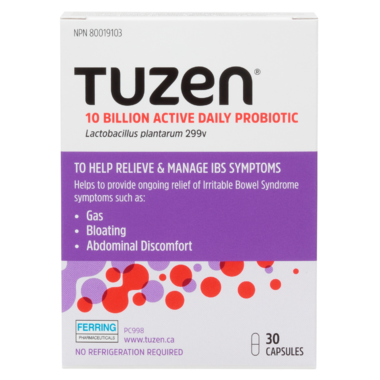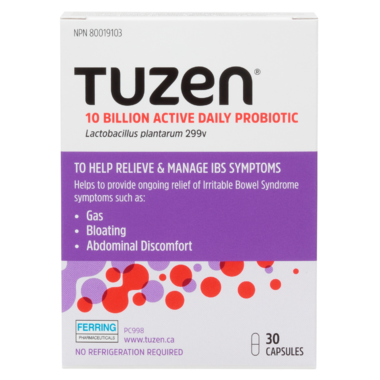 TuZen helps to reduce flatulence and abdominal pain associated with flatulence, in individuals with Irritable Bowel Syndrome.

Dosage: Adults take 1-2 capsules with food per day as required with a balanced diet or as recommended by your physician.

Caution: Do not use if you are experiencing nausea, fever, bloody diarrhea or unusual sever abdominal pain. Discontinue use and consult a healthcare practitioner if symptoms of digestive upset occur, worse or persist beyond 3 days. Not recommended for us in children. Do not take if pregnant, breastfeeding or if immune compromised. contains NO artificial preservatives, flavour, colour, salt or gluten (wheat). Contains traces of soy products.

Each capsule contains: 10 billion live Lactobacillus pantarum 299v DSM 9843 (selected by Probi AB) , a probiotic strain which is resistant to gastric acids to ensure optimal activity in the intestines. Non-medicinal ingredients: potato starch, mangesium stearate, hypromellose (capsule) lecithin, monopotassium phosphate, postassium phosphate dibasic, vitamin C, sucrose.

Please be advised that Well.ca follows manufacturer guidelines for storing & shipping probiotics. This product will be shipped with an ice-pack to maintain product efficacy.