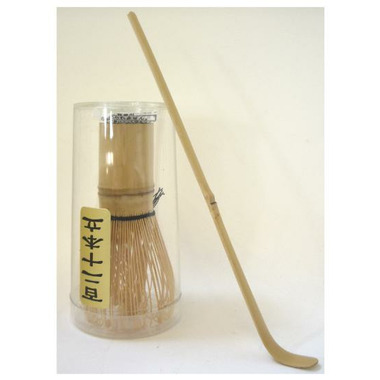 1 Count
Two Hills Tea Bamboo Whisk and Spoon
is rated out of
5
by
9
.
---
Description
Skillfully hand made from bamboo, the Two Hills Tea Whisk is slit into 120 blades and is truly a beauty. It is used for tea ceremonies, or to whisk matcha into hot water. Place one tsp of matcha in a chawan (deep bowl), add 8 ounces of hot water, right before it boils. Whisk vigorously with the bamboo whisk in a "w" or left to right pattern, not a circle, until frothy. Sip right from the bowl and enjoy.

The Two Hills Tea Spoon is hand made from bamboo and can be used to take tea out from tins or other containers. It is 16.5 cm in length.
Highlights

Rated

2

out of

5
by
Alex
from
I try to own very few material things in an attempt to live a more eco friendly life which means I try to buy less and when I do buy, it's good quality items… but I'm disappointed in this product - the whisk is made out of poor material. After a few uses the branches of the whisk started breaking off. Disappointed because I love making matcha lattes!
Date published: 2022-02-14
Rated

1

out of

5
by
Danielle
from
I was very disappointed with this whisk, it lost its shape right away, it did not make my matcha frothy and left bits of bamboo in the drink☹ï¸Â. I would NOT recommend this product!!!!
Date published: 2017-11-11
Rated

5

out of

5
by
Glenn
from
An excellent, well-made authentic product. I keep the two pieces on my counter top for two reasons: I use them very frequently, and they look so nice. The scoop is the perfect size, and the whisk has held up over the course of many uses. It cleans up well, and I imagine it will last for a long time. If you like authentic matcha, this is well worth buying.
Date published: 2012-08-17
Rated

5

out of

5
by
Lisa
from
Works great with my matcha tea. The integrity of the bamboo whisk is sturdy and does not lose its shape easily. Recommending this one for all matcha lovers.
Date published: 2012-01-27
Rated

5

out of

5
by
Honey
from
I always love my matcha and this whisk has helped a lot so it doesnt get clumpy. Just need to get the stand to keep the shape of the whisk
Date published: 2018-05-02
Rated

5

out of

5
by
NotWithoutCoffee
from
Exactly what I was looking for
I was happy to find this to help make matcha at home. It cleans well and has helped up from daily use. Great price too.
Date published: 2023-04-28
Rated

5

out of

5
by
Josee
from
Nec plus ultra of matcha making tool. The best available in Canada. I highly recommend.
Date published: 2015-06-06
Rated

5

out of

5
by
Myriam
from
Used it a couple times now and really satisfied with the whisk! No clumpy matcha ;)
Date published: 2015-11-16