U by Kotex Sleek Tampons Regular Absorbancy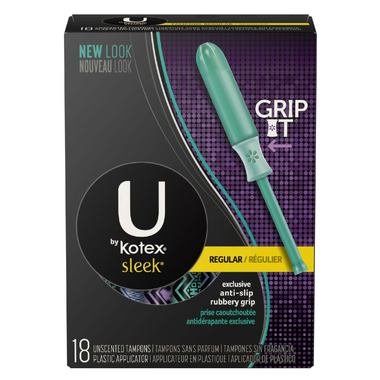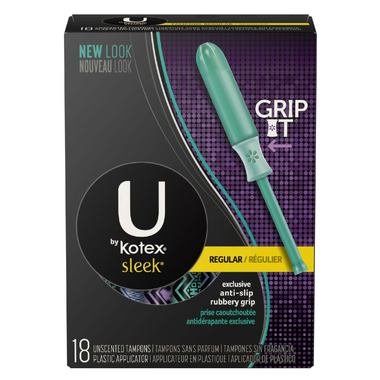 U by Kotex Sleek Tampons Regular Absorbancy
The U by Kotex Sleek Tampons are super slim tampons that offer comfort with outstanding regular absorbency period protection. The exclusive anti-slip rubbery grip helps you guide the full-size applicator into position for perfect placement. The slender applicator has a silky feel to fit your body and a smooth tip for easy insertion. Each box contains three bold applicator colors, wrapped individually with a unique pattern. Regular absorbency tampons can hold 6-9 grams of fluid. This sanitary product is wearable for up to eight hours.
Features:
U by Kotex Sleek Regular Absorbency Tampons have a full-size applicator in a slim design for outstanding period protection
Tampons with an exclusive anti-slip rubbery grip applicator for perfect placement
Slim applicator for your comfort and a smooth tip for easy insertion
Regular absorbency, full-size tampons are fragrance-free
Sleek Regular Tampons come individually wrapped in three colorful designs to help you escape boring period protection
Packaging may vary from image shown
Vicki:
more than a year ago
Ah tampons. Usually use Playtex 360 Gentle Glide at home, as I prefer full size applicators, and the U by Kotex Click out of the house as they fit nicely in my little purses, and I can't stand tampax compact. Anyways, I much prefer the actual u by kotex tampon, as it doesn't open - it just expands, brilliant. Very similar to an OB, but in an applicator. Well the Sleek have a full size applicator, the same tampon as the click has inside, and the grip is amazing. Not only is it textured, it's rubber. Fantastic!
Page
1