Webber Naturals Diabetex PGX
with Mulberry
80 Softgels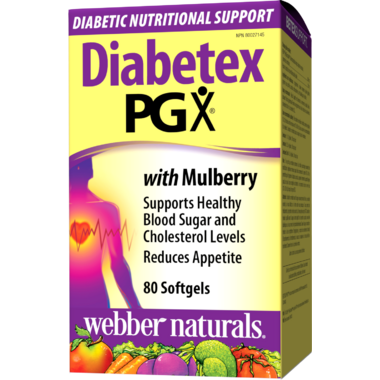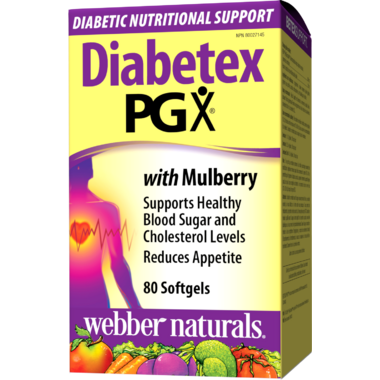 Webber Naturals Diabetex PGX
with Mulberry
80 Softgels
Webber Naturals Diabetex PGX, with Mulberry features PGX (PolyGlycopleX®), a unique blend of water-soluble dietary fibre scientifically proven to safely and effectively normalize blood sugar levels, reduce appetite, promote weight loss, and support healthy cholesterol levels.

Mulberry leaf extract also helps balance blood sugar levels by delaying carbohydrate metabolism.
Features:

Supports healthy blood sugar levels and improved insulin sensitivity
Controls appetite for healthy weight loss and lessened cravings
Includes 25 mg of mulberry extract (leaf) for additional blood sugar balance
Effectively reduces the glycemic index of meals
Medicinal ingredients:

Each Softgel Contains:

PGX® (PolyGlycopleX®) (Amorphophallus konjac,sodium alginate, xanthan gum) 800 mg
Mulberry Extract Powder (Morus alba) (leaf) 25 mg


Jens:
more than a year ago
For years we have used Diabetex Traditional Herbal Formula. The manufacturer is no longer manufacturing this product. They sat Diabetex with mulberry is the same. Sorry it is not. Not at all please that they stopped the traditional. We found something else with similar ingredients. Not Webber. Sorry.
Page
1