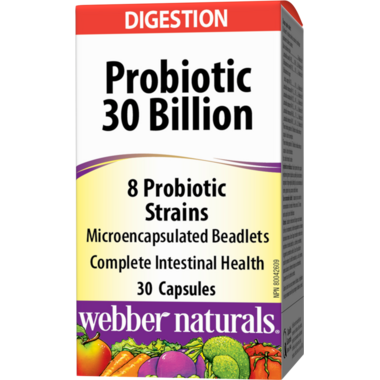 Description
Probiotic 30 Billion from Webber Naturals contains 8 strains of friendly bacteria to support healthy intestinal flora, digestive health, and immune system function. This critical care formula helps manage digestive discomforts such as gas, bloating, and bowel irregularities.

Recommended dosage (adults): 1 capsule daily or as directed by a physician. Take at least 2–3 hours before or after antibiotics.

Caution: If you have nausea, fever, vomiting, bloody diarrhea or severe abdominal pain, consult a physician prior to use. If symptoms of digestive upset (e.g., diarrhea) occur, worsen, or persist beyond 3 days, discontinue use and consult a physician. Do not use this product if you have an immune-compromised condition (e.g., AIDS, lymphoma, patients undergoing long-term corticosteroid treatment). Keep out of reach of children.
Highlights

Features
Convenient one-per-day critical care formula

Helps support gastrointestinal health

Restores and normalizes intestinal flora

Suitable for vegetarians

Shelf stable

Ingredients
Each capsule contains: 30 billion* active cells of the following specially cultured strains of probiotics: Total bacterial culture 30 billion cfu Lactobacillus casei (HA-108) 19.6% 5.88 billion cfu Bifidobacterium breve (HA-129) 15% 4.5 billion cfu Bifidobacterium longum subsp. longum (HA-135) 15% 4.5 billion cfu Lactobacillus rhamnosus (HA-111) 15% 4.5 billion cfu Lactobacillus acidophilus (HA-122) 14% 4.2 billion cfu Lactobacillus plantarum (HA-119) 14% 4.2 billion cfu Lactobacillus rhamnosus (HA-500) 7% 2.1 billion cfu Lactobacillus helveticus (HA-501) 0.4% 0.12 billion cfu *Guaranteed minimum 30 billion active cells per capsule at expiry date. *Guaranteed minimum 75 billion active cells per capsule at manufacture date. (cfu: colony forming units)
Shipping & Returns
We are only able to ship this item to Canadian customers.
Please be advised that Well.ca follows manufacturer guidelines for storing & shipping probiotics.
Click here for more information