Weleda
Weleda Baby Calendula Diaper Cream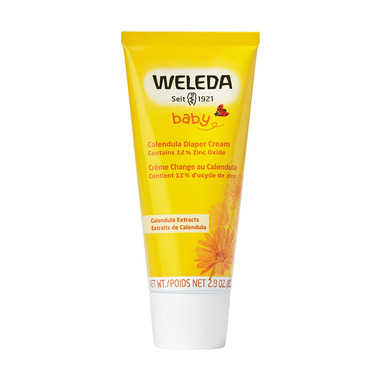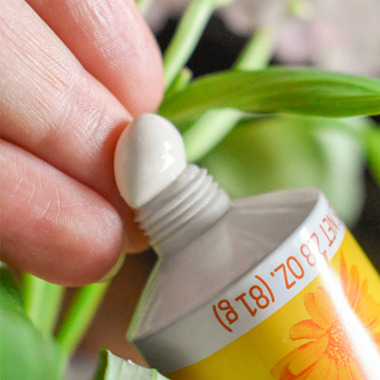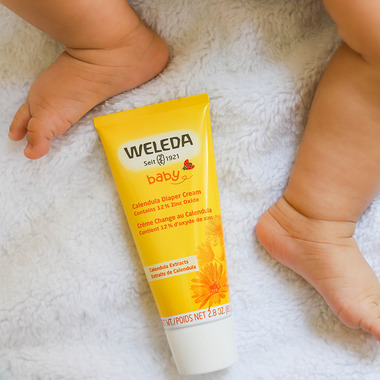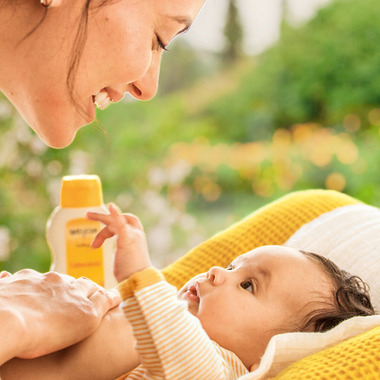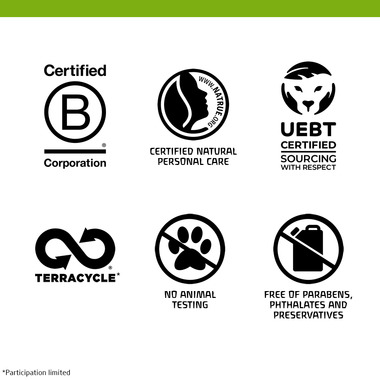 Weleda
Weleda Baby Calendula Diaper Cream
81 g
Weleda Baby Calendula Diaper Cream
is rated out of
5
by
47
.
---
Description
Weleda Baby Diaper Care Cream is great for helping get rid of your baby's diaper rash!

As a natural healing alternative, choose Weleda's Diaper-Care for quick, effective relief for your baby's diaper rash and minor skin irritations. Zinc oxide protects and promotes healing, while calendula soothes the skin.

Directions for use: When you change your baby's diaper, you can clean your his/her bottom with a damp towel or tissue and Calendula Lotion or Oil. Afterwards, apply a generous amount of Weleda Baby Diaper Care Cream and rub it into create a protective layer between the sore bottom and any excess moisture. If your child has a very red and sore rash, it may be best to use each time you change the diaper. Once the skin has calmed, you can switch to using Calendula Baby (Body) Cream for the daily care of your baby's bottom.
Highlights

Features
Certified B Corporation
Certified natural personal care
UEBT Certified
Terracycle
No animal testing
Free of parabens, phthalates and preservatives
Ingredients
Active Ingredient: Zinc oxide 12%

Non-Medicinal Ingredients: Beeswax, Calendula Flower Extract, Cananga Oil, Chamomile Flower Extract, Citrus Aurantium Leafy Twig (Petitgrain) Oil, Clary Sage Oil, Glyceryl Linoleate, Hectorite, Lanolin, Lavender Oil, Orange Oil, Rosemary Oil, Sage Oil, Sesame Seed Oil, Styrax Tonkinensis Resin, Sweet Almond Oil, Water.
Rated

5

out of

5
by
Cryssi
from
Our favorite cream for our daughter!
I have looked into many creams as we use cloth diapers, and this was the highest rated one. It has not disappointed; it washes easily from diapers and also acts quickly if our daughter has a diaper rash.
Date published: 2020-07-17
Rated

5

out of

5
by
Mar63
from
Great for Adult issues as well!
Purchased this for my cracked dry skin, cleared it up in a few days. I live in a harsh winter climate now I know where to turn every season. It's great because it heals as well as protect.
Date published: 2021-03-15
Rated

5

out of

5
by
Tumblingtulips
from
Works Well
I originally bought this for my SIL as one of her baby shower gifts, she used it pretty soon after her baby was born and said the rash immediately went away. She hasn't had any diaper rash issues since using this whenever she sees a bit of redness. Ever since then I've given it as a baby gift and everyone has said how much they love it.
Date published: 2021-09-24
Rated

5

out of

5
by
Leandra
from
So far very impressed with this brand...
When it comes to your first baby, you really have no idea what you're doing. Doctor would keep saying use a product with Zinc Oxide in it and I would purchase the Ihle's paste but it was super sticky and hard to apply and get off your fingers and then it would stick to the diaper etc. and didn't really work! But I guess those products are strictly barrier creams? Anyways, this product is great and is super creamy and goes on easy but is also easy to get off my fingers after application. The smell is also lovely. Only thing I would agree with on other reviews is that the bottle is small and hard to close when you have a busy baby moving around as you apply...but my intuition is probably correct that this type of container isn't plastic and is used to keep the integrity of the product in check?
Date published: 2022-07-09
Rated

5

out of

5
by
molly
from
Protects well
I used this on my skin as a barrier and relief from pelvic radiation. It worked really well and prevented me from getting burns. It soothed my sensitive skin and I've even used it on my face when it has been super dry.
Date published: 2020-05-29
Rated

5

out of

5
by
MacKenzie
from
Best diaper cream ever!
I bought this for my newborn whose bum was looking pretty red and rashy. The standard barrier-type diaper creams weren't helping at all so we tested this one out because of the calendula. The rash cleared up within a day! We've found that it also works on other yeasty areas that can develop such as within the neck fold, the thigh folds, and in the arm pits. The lavender scent is pretty strong but doesn't seem to bother our baby at all!
Date published: 2020-02-03
Rated

5

out of

5
by
Aya
from
I trust this brand
My husband and I use other Weleda products, so very happy to try this out. My main reason for buying it was because of its format: squeeze it from a tube, vs scooping from a tub. We got it so our babysitter could use something for the baby and not have to use the tub of diaper cream my husband and I use for the baby. It is a light cream, but still protects baby's bum really well. Really like the light scent too!
Date published: 2020-12-03
Rated

5

out of

5
by
Happylittlebum
from
Works a treat, smells wonderfully!
I hate that I didn't discover this until my second baby! I've tried natural creams with my first, but didn't love any of them. We always went back to Sudocrem. See you later big grey tub. This diaper cream works, has a very smooth buttery consistency, that barriers nicely between diaper changes, alleviated mild redness, and a soothing scent (spa-like). I love it, baby's happy, I'm sold.
Date published: 2021-01-17