ZiwiPeak Daily-Dog Air-Dried Cuisine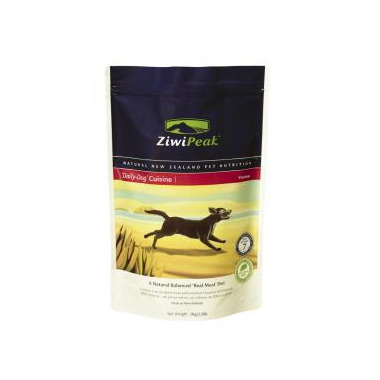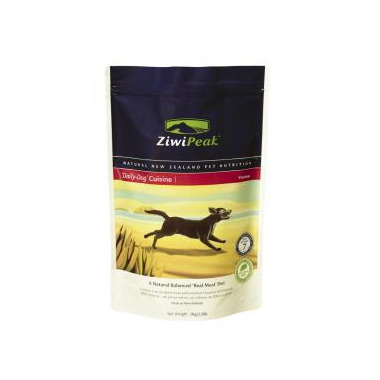 ZiwiPeak Daily-Dog Air-Dried Cuisine
ZiwiPeak Daily-Dog Air-Dried Cuisine is a premium, raw, real meat, dry dog food.
New Zealand's premium quality grass-fed venison is a novel protein source that is highly desirable to feed to your dog. It is highly digestible with plenty of connective tissue and high levels of natural Chondroitin and Glucosamine that naturally supports long term mobility and joint health. Venison meat is considered to be a clean, new protein source that is not farmed intensively.
95% digestible
Stool volume may be reduced
Flatulence may be reduced
Bad breath should disappear
Grain free
Air dried
Natural
Raw

ZiwiPeak Air Dried Venison Cuisine is particularly suitable for:
Dogs that have exhibited skin and coat problems in the past
Dogs that have suffered from allergic reactions to other protein sources, grain or other meats
Dogs that suffer from restricted mobility or who have joint issues
Dogs that are requiring a stricter weight control program
Dogs that suffer from digestion issues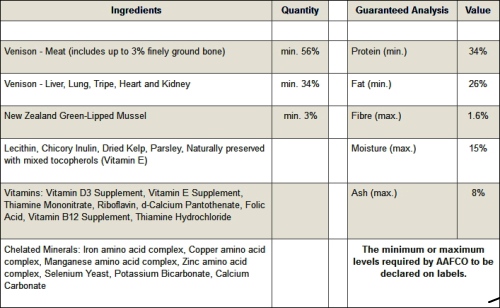 Melissa:
more than a year ago
This is the best dog food I've ever purchased. I came across the brand when looking for dog foods with only natural/healthy ingredients. It is quite pricey so I mix it with grain-free kibble. My dog picks out all the ZiwiPeak pieces right away and leaves the rest until he's hungry again. Very impressed with it.
Jacqueline:
more than a year ago
My dog is (oddly) a picky eater with some skin issues likely caused by allergies. She absolutely loves this and gobbles it up. A review of the ingredient lists shows what high quality dog food this is and it is protein rich. I had my vet take a look and even he seemed impressed with the quality of the food and encouraged us to give it a try. Hopefully, this works out for us, but even if your dog doesn't have skin allergies I would definitely give these a try if you are trying to find a higher quality, protein rich diet for your dog. These also work great as occasional treats.
Page
1