100% Pure Organic Matcha Anti-Aging Shielding Serum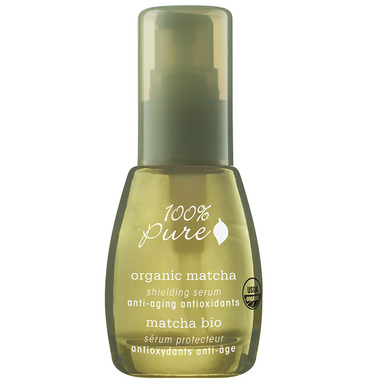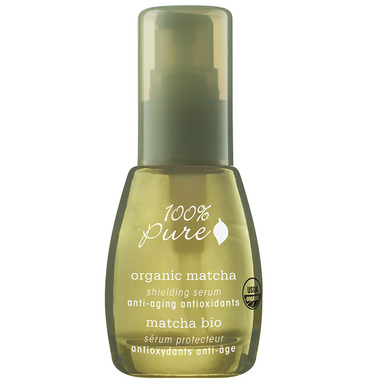 100% Pure Organic Matcha Anti-Aging Shielding Serum
The 100% Pure Organic Matcha Anti-Aging Shielding Serum is an antioxidant-concentrated, nutrient-dense serum that blocks environmental free radicals and restores previously damaged skin. It is both hydrating and skin-plumping to leave you with a radiant, healthy, glowing complexion. Formulated without sulfates or any other harsh detergents that can strip, dehydrate or irritate.

Ingredients: Glacial Water infused with Camellia Sinensis (Organic Green Tea)*, Sodium Hyaluronate (Hyaluronic Acid), Fucus Vesiculosus (Organic Seaweed) Extract*, Matricaria Recutita (Organic Chamomile) Flower Extract*, Sambucus Nigra (Organic Elderflower) Extract*, Comfrey Allantoin, Camellia Sinensis Leaf Powder (Matcha Green Tea), Panthenol (Vitamin B5), Vegetable Glycerin, Plant Cellulose, Aspalathus Linearis (Organic Rooibos) Extract*, Euterpe Oleracea (Organic Acai) Fruit Oil*, Lycium Barbarum (Organic Goji) Fruit Extract*, Ubiquinone (Coenzyme Q10), Alpha-Lipoic Acid (Antioxidant), Olive Squalane, Niacinamide (Vitamin B3), Natural Flavor, Glucose Oxidase (Sugar Enzyme) & Lactoperoxidase (Milk Enzyme) * Certified Organic

Vegetarian, Gluten Free, Non-GMO, Natural, Fair Trade, Organic






Monica:
a few months ago
It's a small bottle, expensive, and feels about as effective as some water mixed with hyaluronic acid. I don't think that 1 bottle would be enough to see results. At least the branding has convinced me that this is an all natural serum, and it definitely is a gentle formula. Nice, mild smell that isn't chemicall-y. The viscosity is quite fluid, although not runny (like typical vitamin C serums), goes on smooth and dries a little sticky.

I feel a little sad that when I massage it into my face and realize I'm using up just as much product on my palms as what's going on my face. If you have some cash to burn, spend it on this little ditty. I'm not sure the effectiveness is worth the price tag.
Lorraine:
a few months ago
I love this product! It makes my skin feel fresh and clean. 100% pure makes the best products using only natural ingredients. My skin feels fresh using it, and not irritated at all. It took a very long time to find a serum that I trusted with my combination skin type. It is a bit pricey, but well worth the cost.
Page
1