100% Pure Seaweed Detox Bath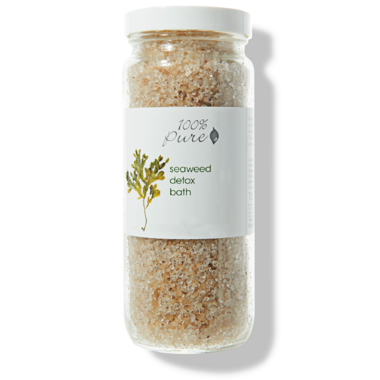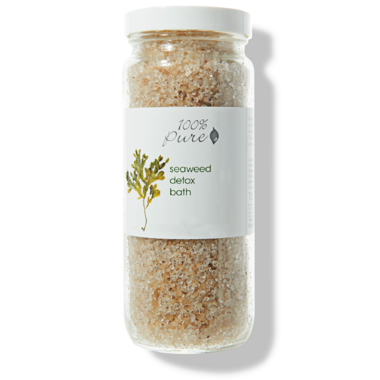 100% Pure Seaweed Detox Bath
Instead of ordinary sea salts, the 100% Pure Seaweed Detox bath is made with crystallized kelp from an organic seaweed farm on the Brittany coast of France. The clear plasma of the seaweed rises to the ocean's surface, then crystallizes in the hot summer sun.
This intensely detoxing bath is made with ginger root, seaweed, dandelion, eucalyptus, tea tree and rosemary to increase circulation, draw out toxins and to stimulate lymphatic drainage to remove heavy metals and other impurities. This therapeutic bath is full of vitamins, antioxidants, minerals and necessary trace elements.
Key Benefits
100% natural, 100% vegan, gluten free
Made with crystallized kelp instead of ordinary sea salts
Contains over 60 different minerals, vitamins, antioxidants and amino acids that replenish, detox and heal
To use:
Pour a generous amount into bath, then stir salts into water until dissolved. Therapeutic fragrance will permeate the rising steam.
Ingredients
: Sodium Chloride (Unrefined French Crystallized Kelp), Kelp, Sodium Ascorbate (Vitamin C), Tocopherol (Vitamin E), Extracts of Zingiber Officinale Root (Ginger) and Rosmarinus Officinalis (Rosemary) Leaf, Dandelion, Melaleuca Alternifolia (Tea Tree) Leaf Oil, Piper Nigrum (Black Pepper) Seed Oil, Mentha Piperita (Peppermint) Essential Oil,Eucalyptus Globulus (Eucalyptus) Leaf Essential Oil, Geraniol*, Limonene*, Linalool* * Component of Natural Essential Oil