Adrien Gagnon GO Joints Quick/Absorb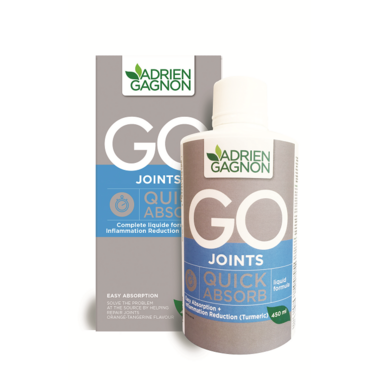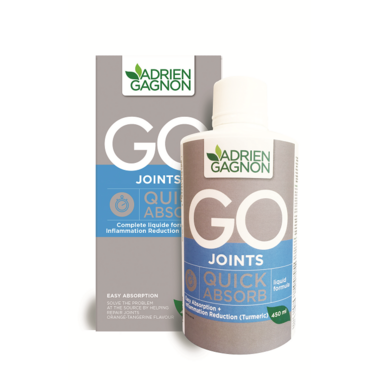 Adrien Gagnon GO Joints Quick/Absorb
Adrien Gagnon GO Joints Quick/Absorb is a factor in maintaining good cartilage and/or joint health. It helps to reduce joint pain associated with osteoarthritis and osteoarthritis of the knee. Protects against the deterioration of cartilage and provides antioxidants for the maintenance of good health. Traditionally, Curcuma longa is used in Herbal Medicine as an anti-inflammatory to help relieve joint pain.
Benefits:
Help reduce joint pain and stiffness
Improve joint mobility
Help repair damaged joints due to wear or to an accident
Protect against cartilage deterioration
Dosage:
Adults take 1 tablespoon daily. Take with food, avoid taking at bedtime. Use for a minimum of 4 weeks to see beneficial effects.
Ingredients:
Each tablespoon (15ml) contains:
Glucosamine sulfate (glucosamine sulfate 2KCl, from the exoskeleton of crustacean) 1500 mg
Hydrolysed collagen (bovine skin/hides) 1200 mg
Chondroitin sulfate (bovine cartilage) 500 mg
MSM (Methylsulfonylmethane) 400 mg
Turmeric [Curcuma longa] (concentrated 10:1 extract equivalent to 1000 mg of crude dried rhizome) 100 mg