Adrien Gagnon Nutriforme Protein+ Bars
Salted Caramel Granola Swirl
5 x 65g Bars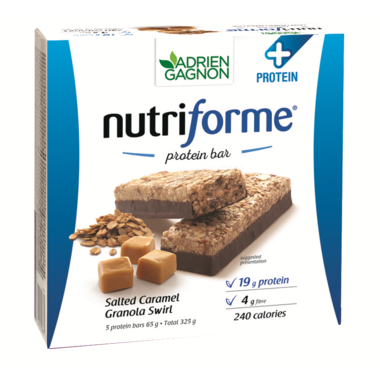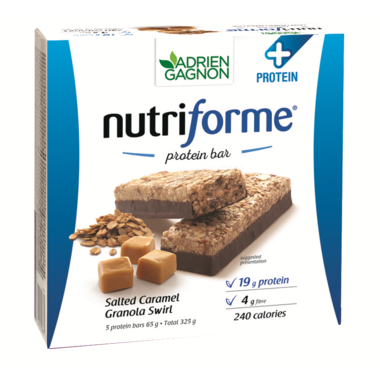 Adrien Gagnon Nutriforme Protein+ Bars
Salted Caramel Granola Swirl
5 x 65g Bars
Adrien Gagnon Nutriforme Protein+ Bars are delicious and the ideal snack to meet the protein needs of active people!
Satisfy your appetite with this source of protein, which is lower in fat than animal sources such as meat and provides full range of amino acids you need to maintain your muscles and bones.
Ideal Snack For:
Those who are physically active and are looking for a filling snack
Those who train regularly
Those who want extra proteins to help fighting against loss of bone and muscle density due to aging
Nutrition Facts:
Each protein bar (65g) contains:
Calories 240 Cal/1004 kJ
Protein 19 g
Fat 7 g
Carbohydrate 31 g
Fibre 4 g

Dani:
about a year ago
I tecieved this as a sample alongnwith a chocolate protein bar from Adrien Gagnon. The chocolate one was inedible, really bad IMO, but this one was much better. Still not delicious but I just don't much care for protein bars. But if I had to choose between this one and the all chocolate one, this would be an easy pick.
Page
1